Everyone in business knows the importance of networking. But finding the right people to network with isn't always an easy task. Luckily, there are numerous networking apps that enable you to connect with others in your industry, often without even having to leave to comfort of your own home.
In this article, we are going to discuss 14 of the best networking apps for entrepreneurs to help give you a head start in the networking sphere. Some of these apps facilitate face-to-face meetings, or inform you of relevant events in your niche, others simply introduce you to fellow entrepreneurs, helping to ease the process of networking. Let's get started…
Meetup


Meetup caters for both professional and personal needs. However, for entrepreneurs looking to network, it is an extremely useful app. You can use Meetup to find meetups locally and connect with those who have an interest in your area of expertise.
Alternatively, you can create your own meetup, reaching out to others who would like to connect, and establishing a community around your business.
So what else do you need to know about Meetup?…
Meetup categories cover a wide range of interests and niches, including tech, sport, music, and much more.
Download Meetup from the Apple Store or Google Play (or access it online).
Popular in over 400 countries.
Price: Free
Shapr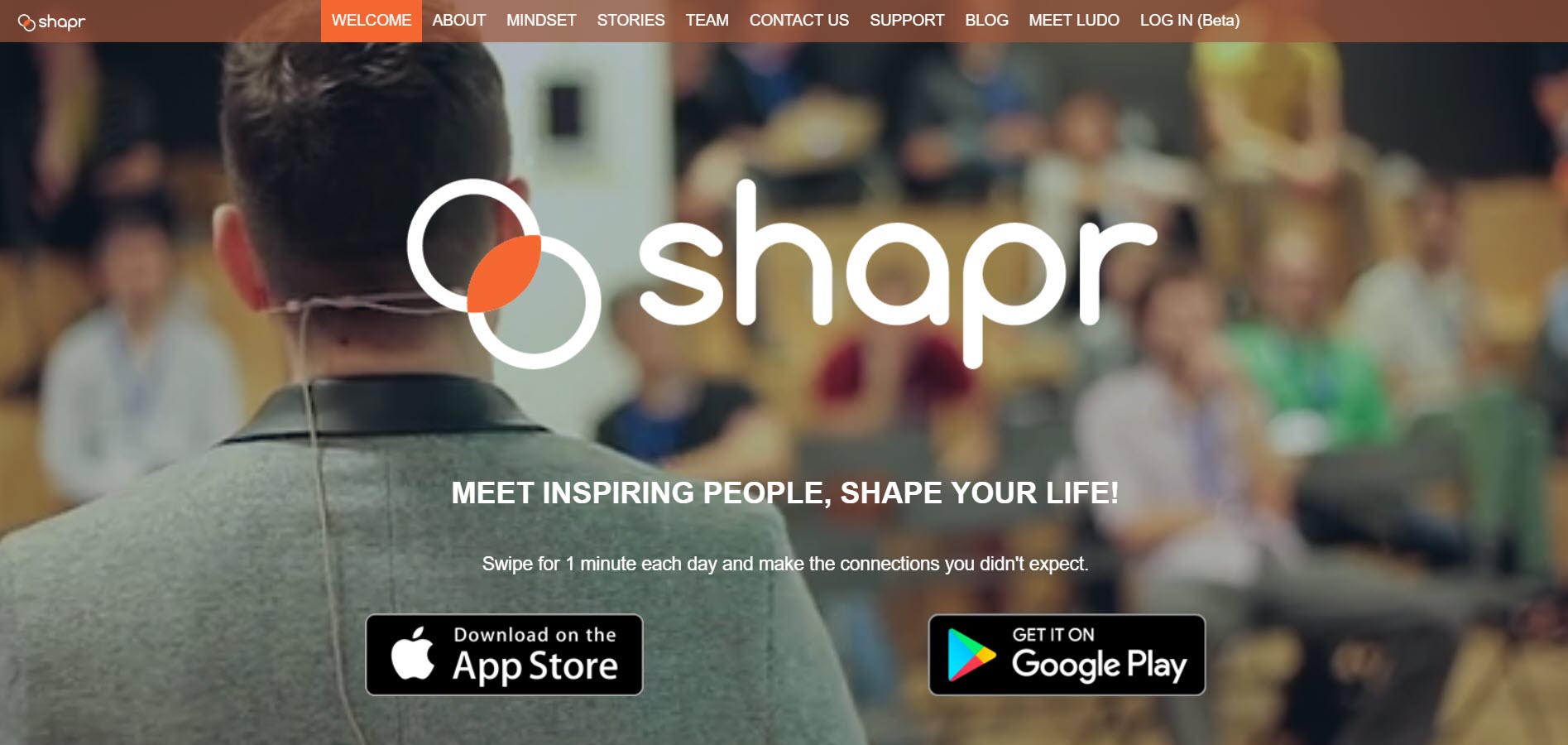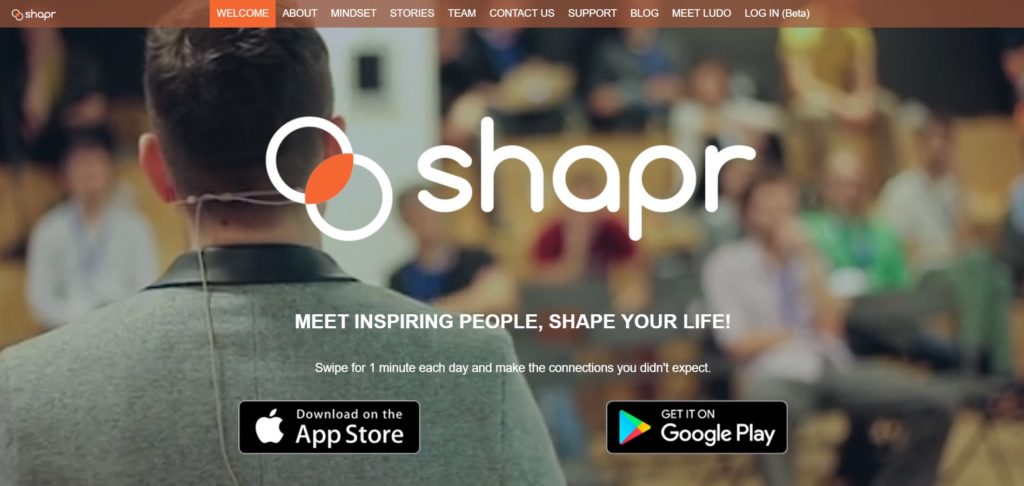 Shapr is a fun and time-effective way to meet new people in a professional context. Working in a similar way to Tinder, you can simply swipe to find people with the same entrepreneurial interests or professions. Swiping is anonymous, and once you get a match you can then connect and arrange to chat online or meet up face-to-face.
Shapr also recommends other users to you that they think would be a good match. When you sign up with Shapr, you create a profile containing your interests, location, and professional experience. Shapr then uses this info to suggest 10 to 15 inspiring profiles on a daily basis.
Let's have a look at what else Shapr offers…
Tag up to 12 interests, skills and passions to ensure your profile provides a well-rounded picture of your professional self and attracts others.
Once you have found a match, connect using Shapr Messaging.
Available on both iOS and Android.
Price: Free / Pro Version from $9 a month (billed annually).
Eventbrite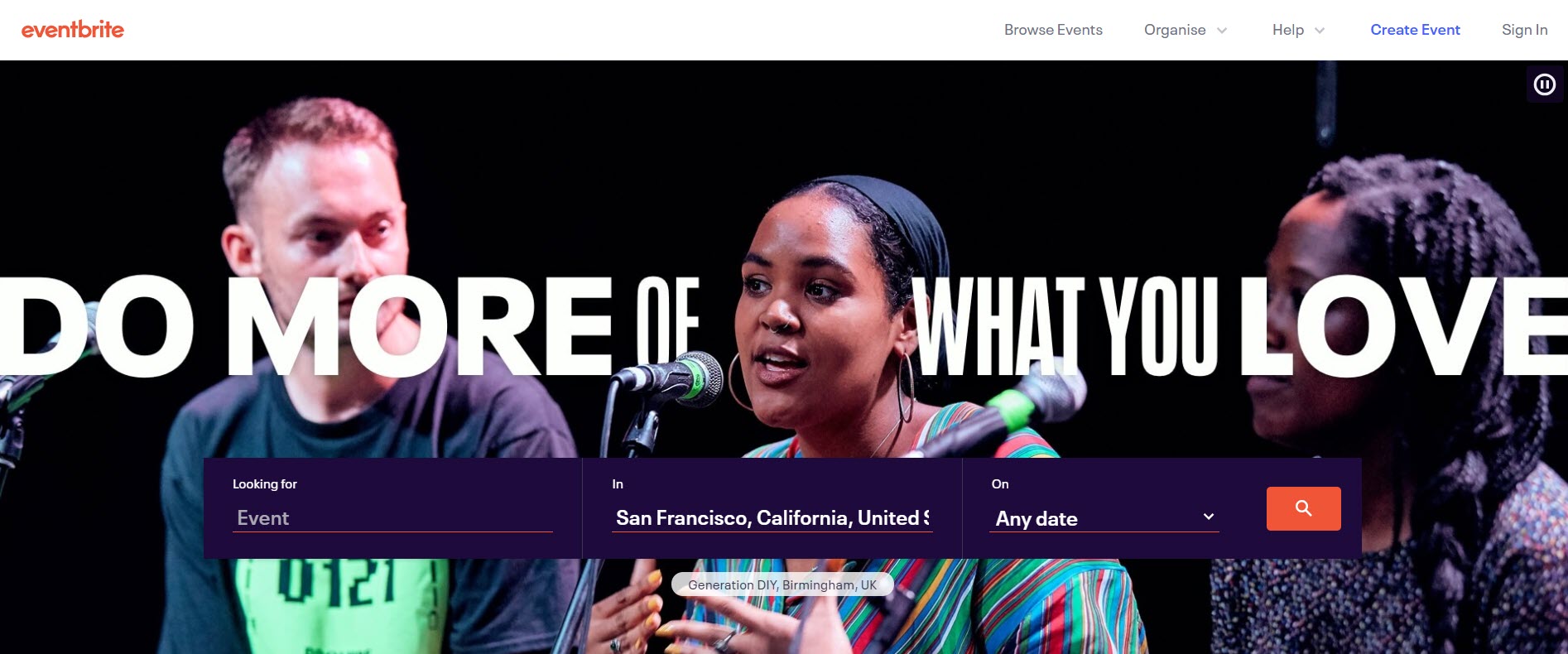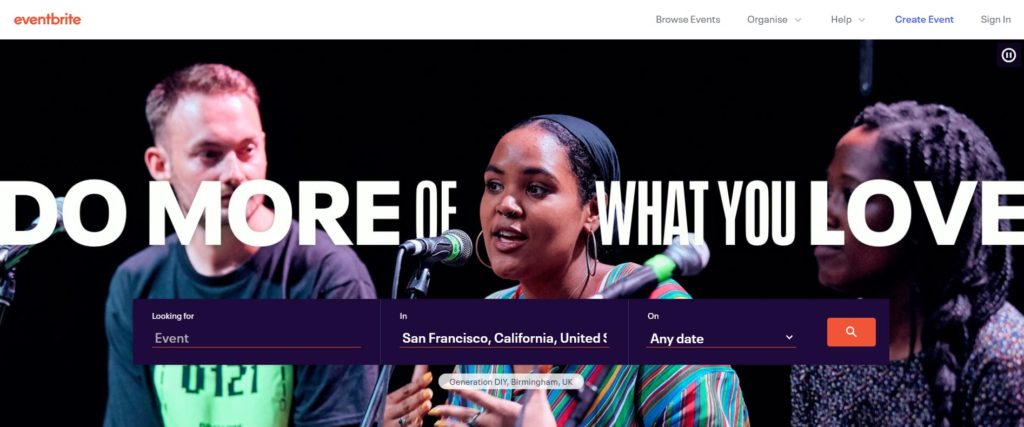 Eventbrite offers two popular apps that allow you to discover great events or create your own. With the Eventbrite Discover app, you can search for upcoming events and conventions in your area of interest, sign up to classes, and connect with like-minded professionals.
The Eventbrite Organizer app is a one-stop-shop for creating and managing your own event. This makes it a perfect choice for an entrepreneur who is looking to form a community of potential clients and customers. You can design your own event listing page and process payments, as well as track your sales and analytics.
Here are some other top features from Eventbrite…
Select from a variety of beautifully designed templates to enable you to promote your brand and event in style.
Real-time reporting on ticket sales and no fees on free tickets.
Available from both the Apple Store and Google Play.
Price: Although the Eventbrite apps are free to install, if you are running an event you will be charged between 4-6% commision on ticket sales.
LinkedIn


The LinkedIn app is a great option for entrepreneurs looking to network. With over 500 million members using LinkedIn, this is the perfect platform to manage your professional identity and reach out to those working within your sphere. You can build relationships, access insights, and create opportunities all within the LinkedIn network.
After signing up with LinkedIn, you can fill out your own profile page, adding information on your work history, experience, and ethos. You can then connect with other businesses, find jobs, and concentrate on expanding your business network.
Let's find out a bit more about what LinkedIn offers…
Available in over 200 Countries.
Price: Free / Premium starting from $59.99 a month.
GroupMe


GroupMe is a tool that has been created to improve both personal and business interactions. Providing free group messaging, it works by enabling you to set up and access private chat rooms for individuals of your choosing. You can coordinate with colleagues, establish different chat rooms for different teams and projects, share important info in real-time and much more.
Usefully, GroupMe allows you to send unlimited amounts of media via your chat rooms. So you can share photos, galleries, and videos, as well as locations to help aid meetups.
Let's check out other GroupMe features…
Direct one-to-one messaging.
Native apps for Android, iOS, and Windows.
Price: Free
Bizzabo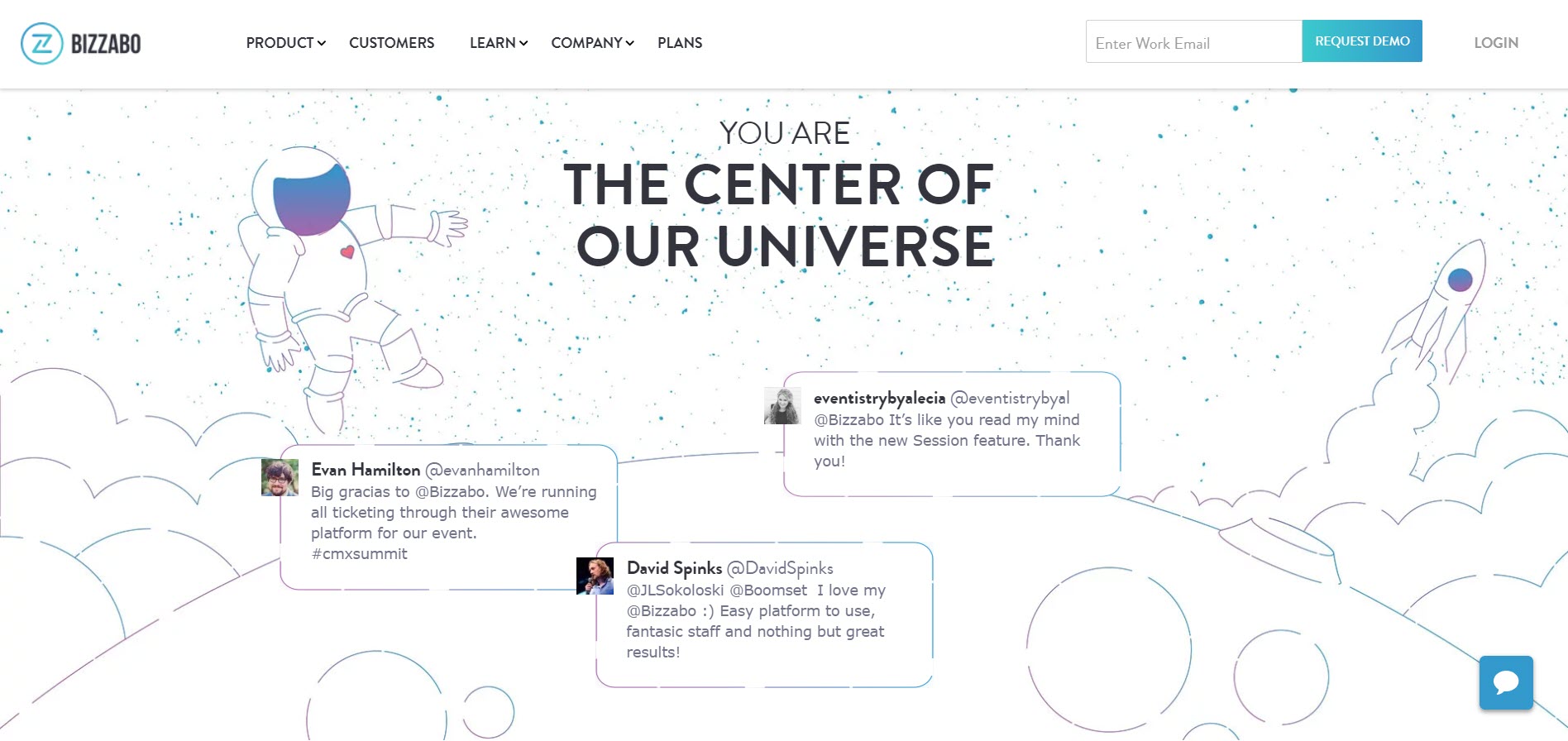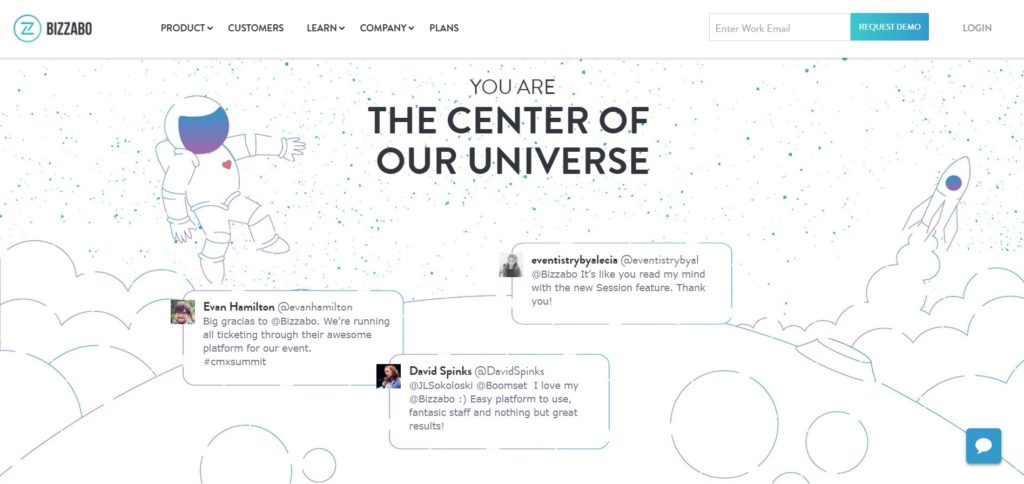 Bizzabo provides a powerful app that is an ideal solution for businesses and entrepreneurs that host and attend events.
For those hosting events, this app will enable you to create a unified and engaging brand experience for all of your events. This, in turn, will ensure that your attendees receive a consistent and impressive app-experience, helping to build a strong community. Not only does Bizzabo allow you to create, promote, and sell tickets for events, you can also customize every aspect of the app, from the login screen to the fonts, colors, and images.
As an attendee, you can download the Bizzabo app and access a range of tools that will help you to build those valuable business connections. These include creating your own attendee profile and viewing profiles of others attending the event, private messaging, social media integration, and much more.
So what else do we need to know about Bizzabo?…
Ideal for conferences, corporate events, meetups, trade shows, seminars, and more.
Active in over 80 countries.
Price: For attendees of events, the app is free to download and use. For businesses using the app for their own events, prices are available upon request.
Common Connect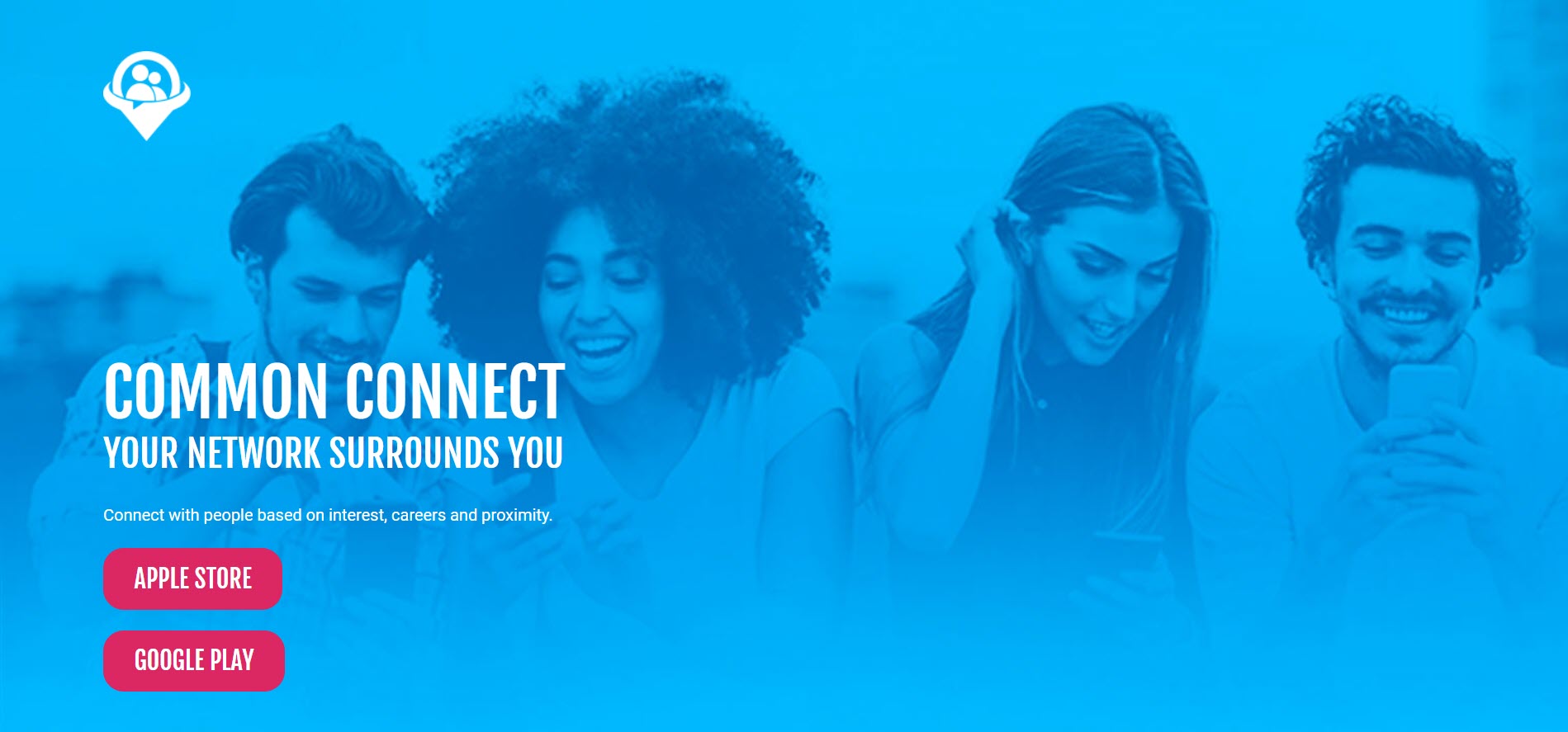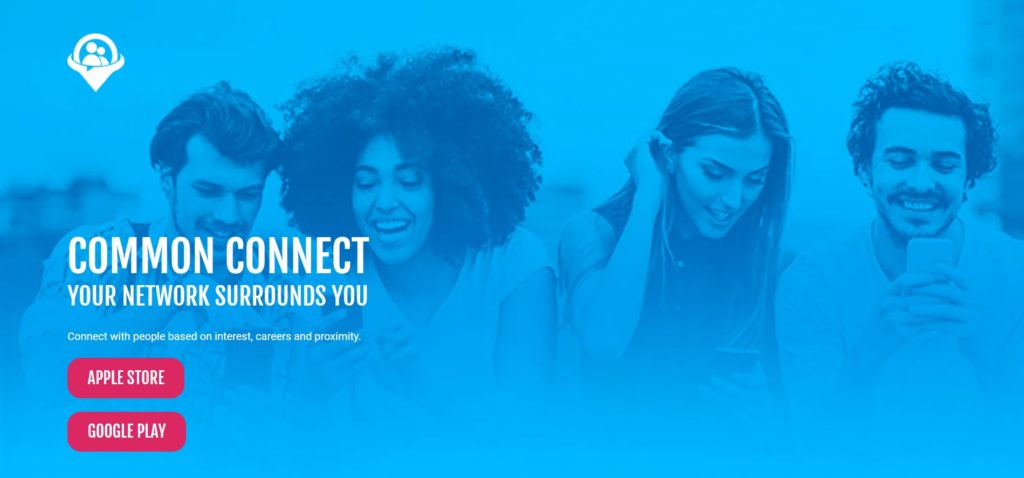 Common Connect focuses on connecting people based on interests, careers, and proximity. You can use this app to reach out to individuals in any industry or profession. Simply set your preferences to any specific field, niche, or job title within a particular location, and then scan the app to find like-minded professionals who would like to connect.
Common Connect can also be used by businesses or entrepreneurs hosting an event or conference. Simply create a custom code that then allows attendees to quickly find each other and begin to broaden their networks.
Other Common Connect features include…
Add followers from social media and connect on a professional level.
Conference Mode – Find people who have attended the same conferences as you.
Available from both the Apple Store and Google Play.
Price: Free
Facebook Events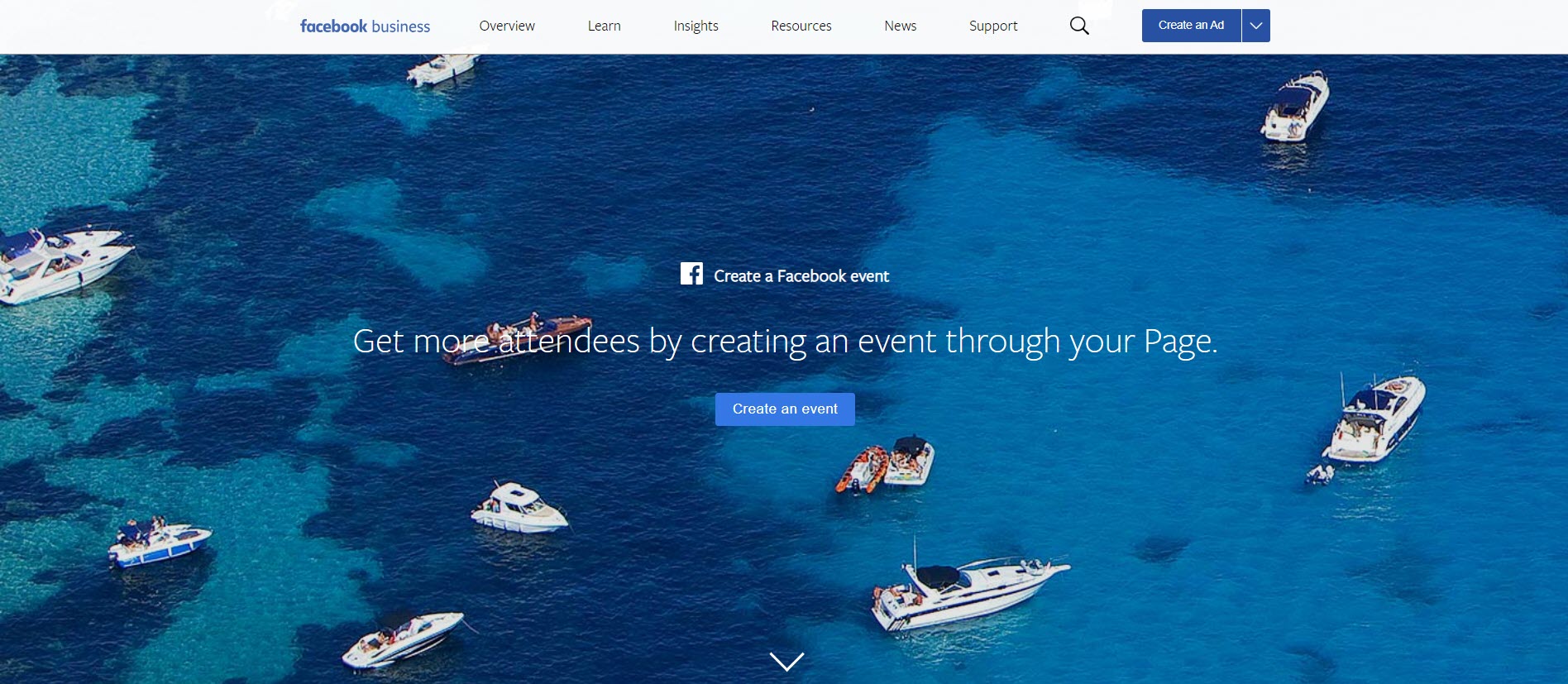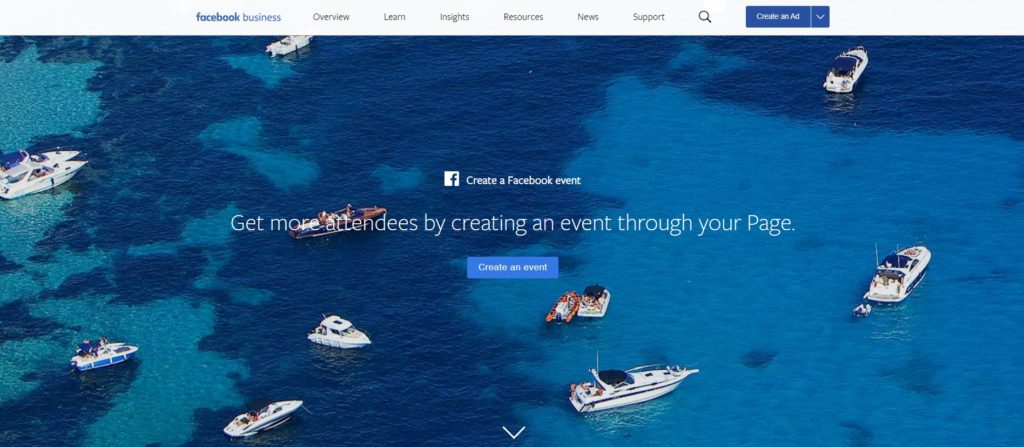 Facebook Events is a calendar based resource that can be used to create and inform followers of upcoming events. As an entrepreneur, growing a following on Facebook is a must, and setting up a Facebook group or Facebook page is an effective way to achieve this.
Once your Facebook following is substantial, any events you create can be immediately displayed on your page or to your followers. This is a quick and powerful option for those looking to engage with potential attendees and future clients or customers.
You can also use Facebook Event ads in conjunction with your created events. Let's take a look at some of the benefits of event ads…
Use Facebook Event ads to increase responses to events or sell tickets.
Choose to advertise to the right people by creating Event Engagement custom audiences, lookalike audiences, and more.
Create your ad in Facebook Ads Manager, ensuring your event ad is stylish and professional, will reflect your brand, and will appeal to your target market.
Price: The Facebook app is free to download and can be accessed on all devices.
SummitSync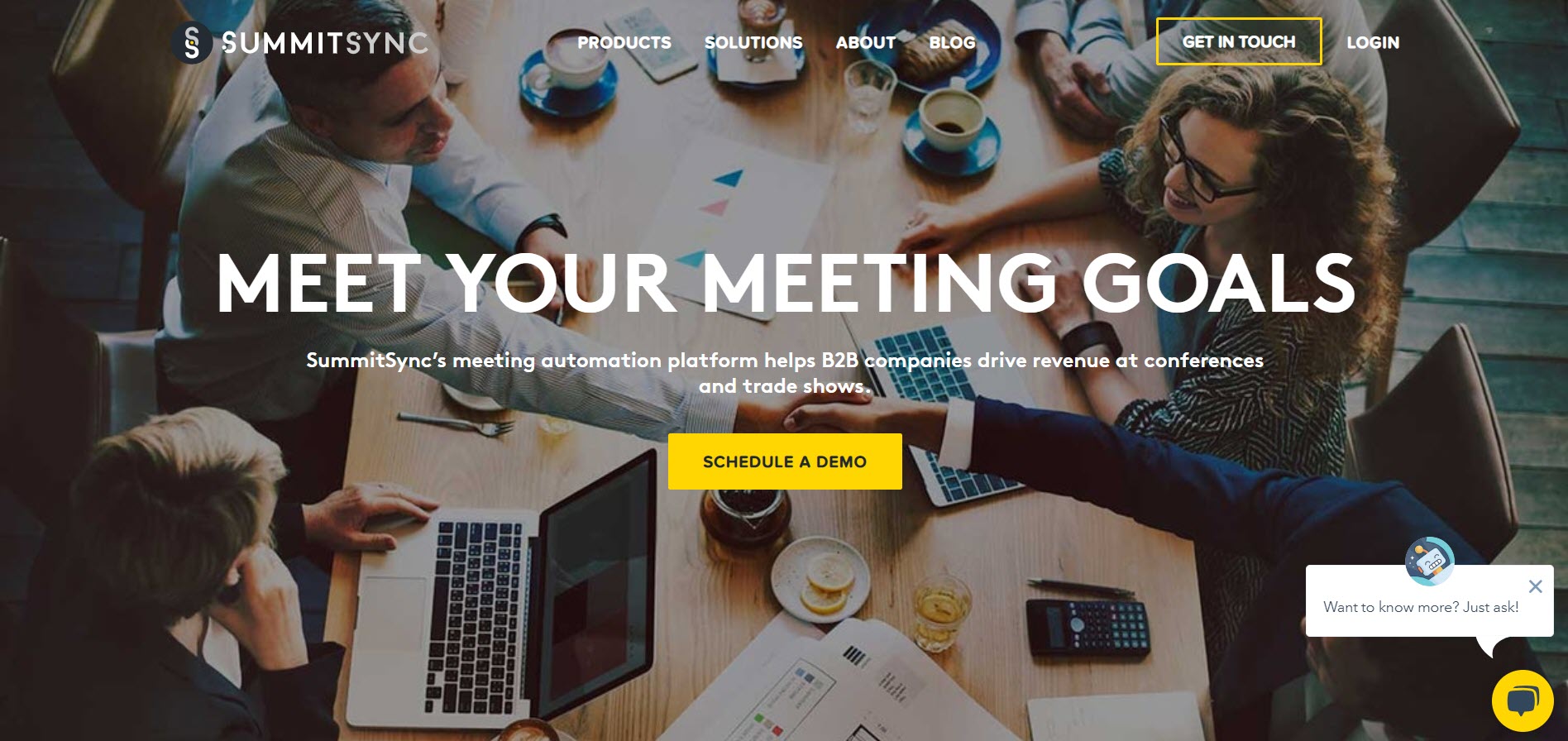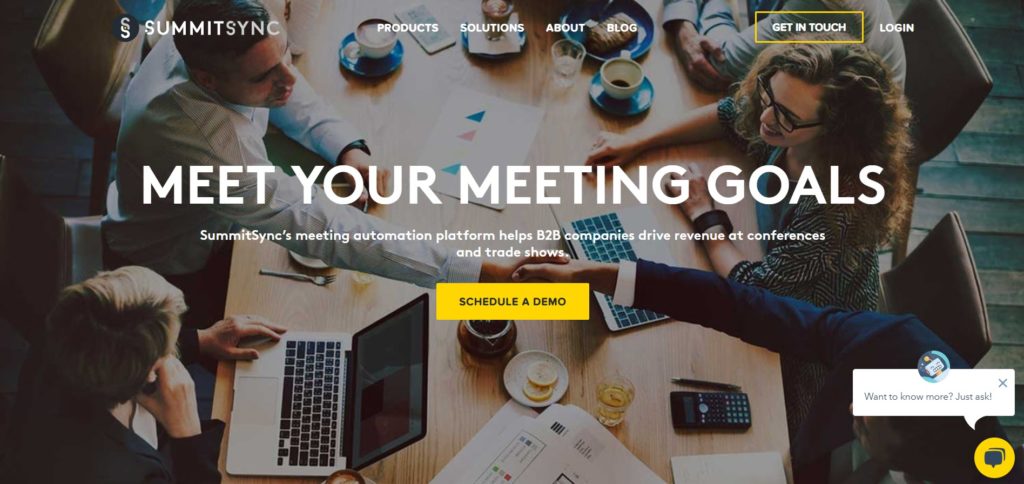 SummitSync is an iOS and Android app that focuses on smoothing the networking process at events and meetings. Attendees to events can log in using their LinkedIn info and then search the profiles of others attending the same events and conferences. This enables users to organize and schedule meetings at events in advance, ensuring they network with the right people.
Again, this tool works in a similar way to Tinder, letting app users simply swipe left and right to view and reach out to potentially valuable business connections. SummitSync also integrates with email and calendar tools, as well as providing private messaging for its users.
Here are a few other top features from SummitSync…
Track your results and measure the impact of your trade show marketing.
Integrates with Salesforce.
Price: Available on Request.
Nudge


Nudge is an impressive solution for businesses and start-ups that will integrate with Chrome to work seamlessly inside your inbox. Created for sales and marketing teams, Nudge will give you up-to-date info on your contacts, enabling you to establish common ground and rapport with your potential buyers.
Nudge's network analysis will also help you grow your network by helping to identify key people and accounts to build relationships with. Gain holistic insights into individuals and companies, which again can be used to reach out and start a conversation.
Let's find out a bit more about Nudge…
Integrates with Gmail, Salesforce, LinkedIn, and many more.
Price: Starting at $1000 a month (with a one-month free trial).
One Million Cups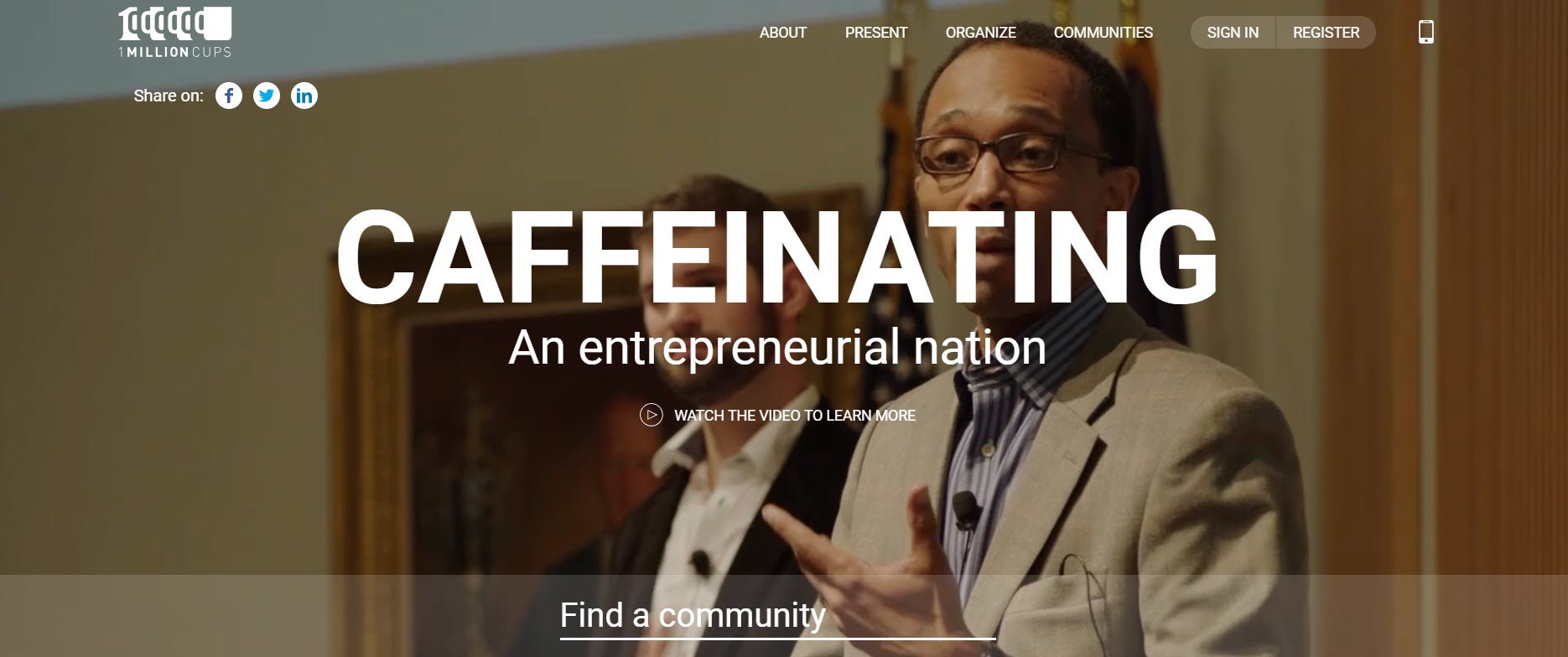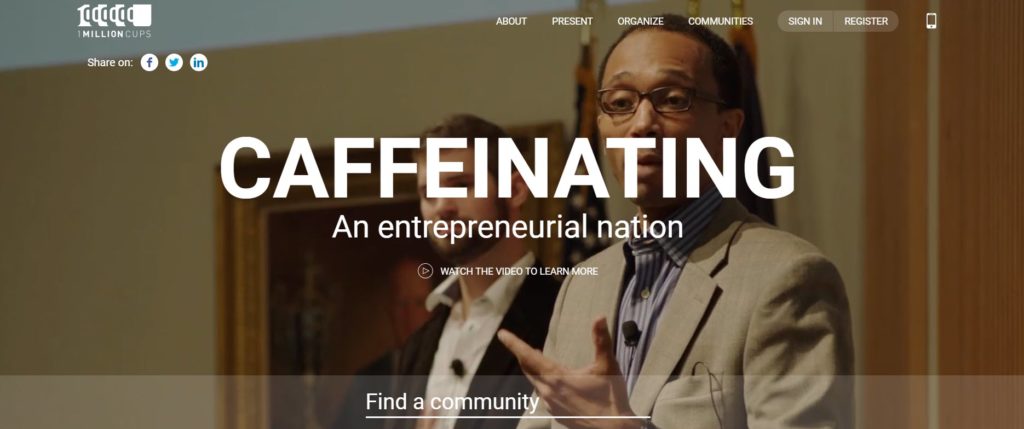 One Million Cups is based on the idea that entrepreneurs engage with other, and discover solutions, over millions of cups of coffee. This free programme has been designed to educate and inspire entrepreneurs across the US. Every week entrepreneurs, speakers, and experts deliver presentations to communities across the country (with plenty of free coffee flowing!)
By downloading the One Million Cups app you can explore the different events on offer, and find out the who, where, and when, of events in your proximity. You can also connect with those in your One Million Cups community, find new communities, and support other entrepreneurs.
Other benefits of signing up with One Million Cups include…
Connect with 200+ communities of entrepreneurs.
Attend summits across the nation.
Network with the most recent startups in your area.
Price: Free
LetsLunch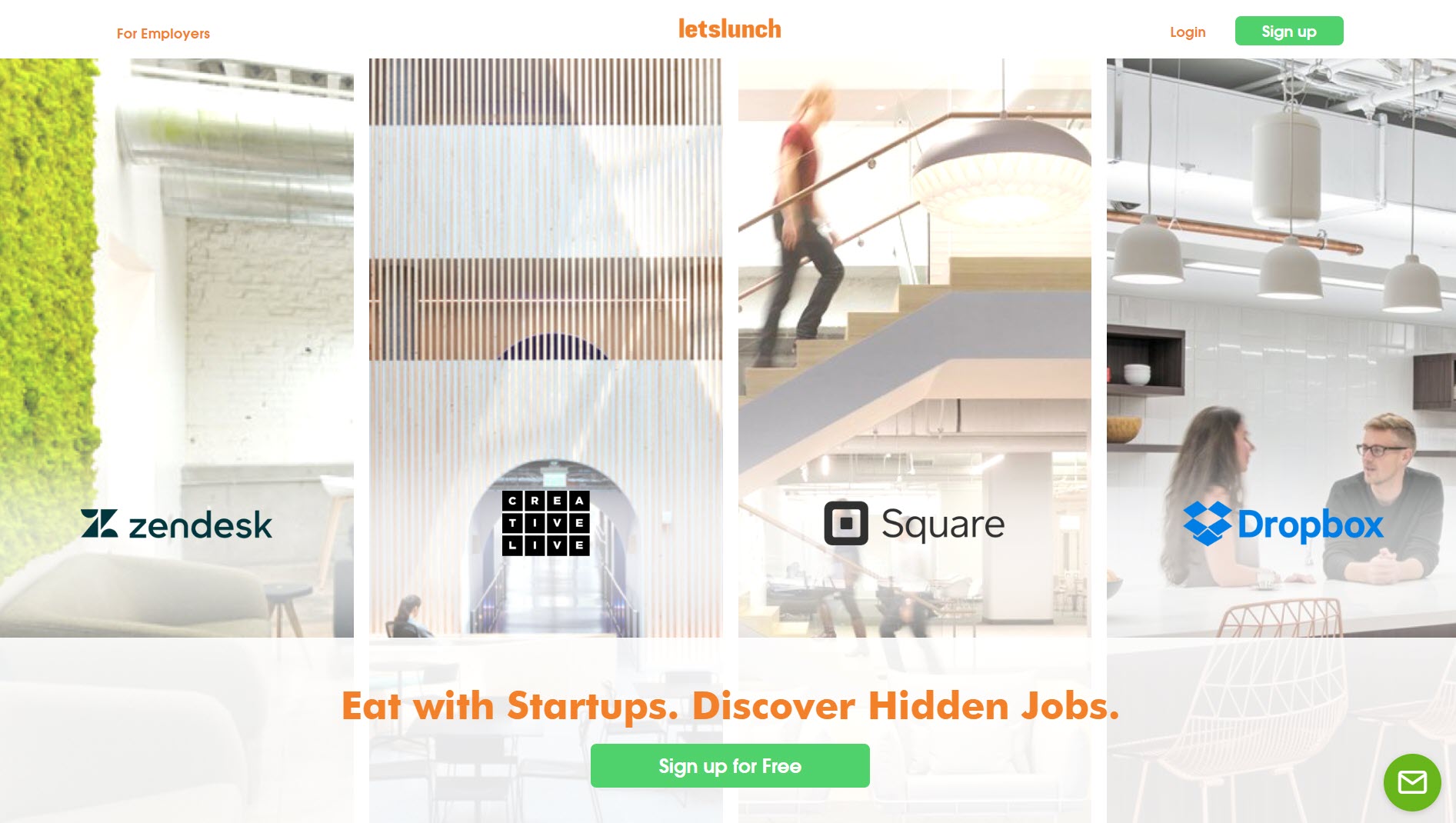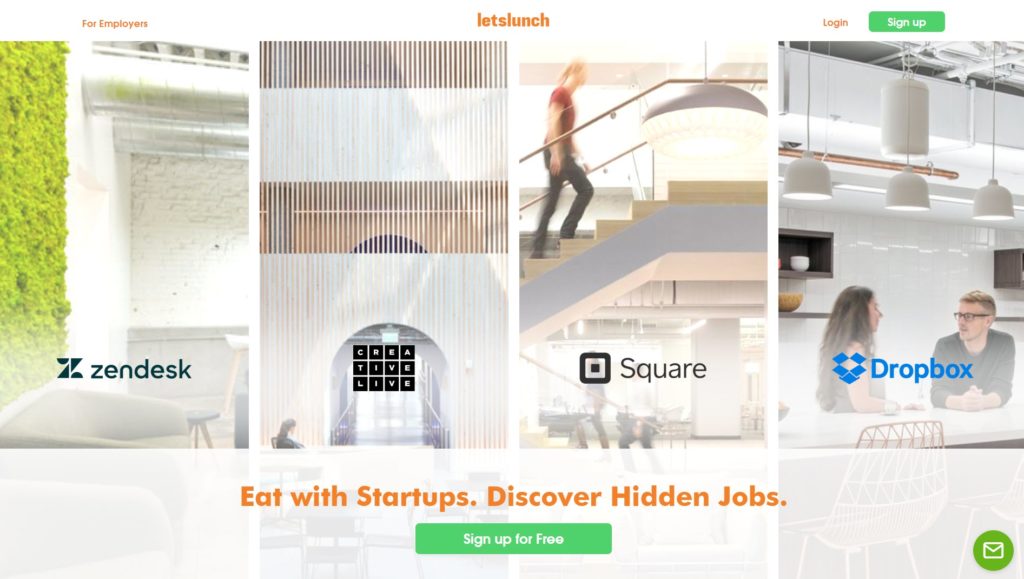 LetsLunch is another of these useful networking apps based around meeting up – this time with a focus on lunch! Simply join up, complete your profile, and then identify key dates, times, and places you can meet for lunch (or a coffee if you'd rather). LetsLunch then uses AI software to identify potential smart matches for you, based on your calendar, interests, and goals.
By meeting face-to-face with others in your profession, you not only build relationships, but also exchange ideas, hear about potential job opportunities, and get a foot in the door. This gives you an edge over your competitors and enables you to have fun (and food) whilst you grow your network.
Let's consider some other useful facts about LetsLunch…
LetsLunch users come from over 2000+ companies and have so far scheduled over 1000 lunches.
Available in six countries.
Download from the App Store.
Price: Free
Brella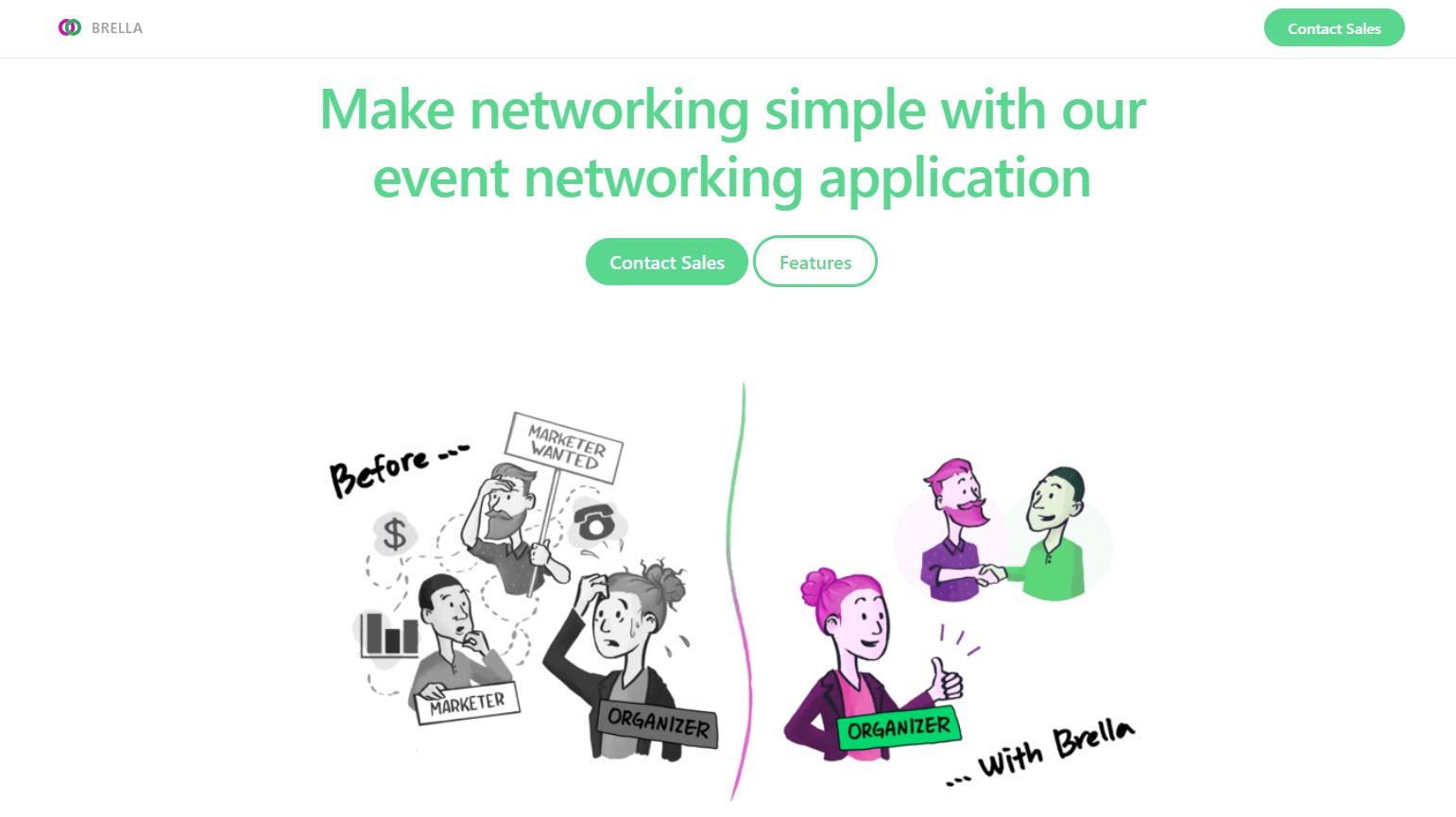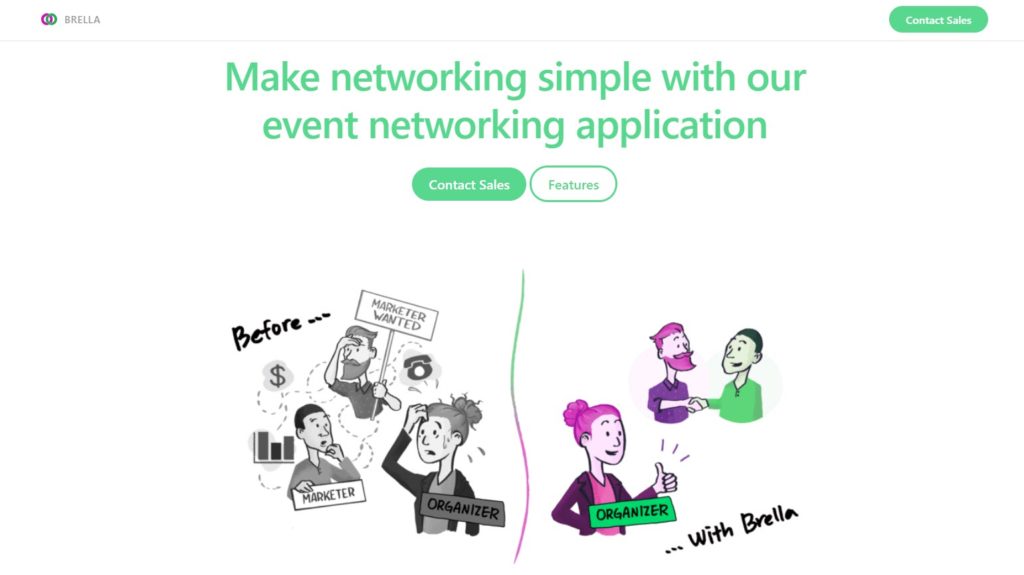 Brella is an event networking application that can help improve events by enabling attendees to book meetings with the right people, before the event has even begun. This ensures attendees are prepared and get the most out of an event, which ultimately will result in customer satisfaction and repeat ticket sales for future events.
Brella boasts its app allows attendees to make the 'best possible connections' at an event. Whether people are looking to find new leads, clients, or contacts, the Brella networking app will help attendees find who they are looking for.
Here are some other features of Brella…
Attendees can create a profile on the Brella app, select unique interests, and write a pitch to help them stand out from the crowd.
The Brella algorithm gives attendees the best matches, and they can then book meetings with just a few clicks.
Brella provides real numbers on how many meetings happened at your event.
Price: For attendees of events, the app is free to download and use. For businesses looking to use the app for their own events, prices are available upon request.
Whova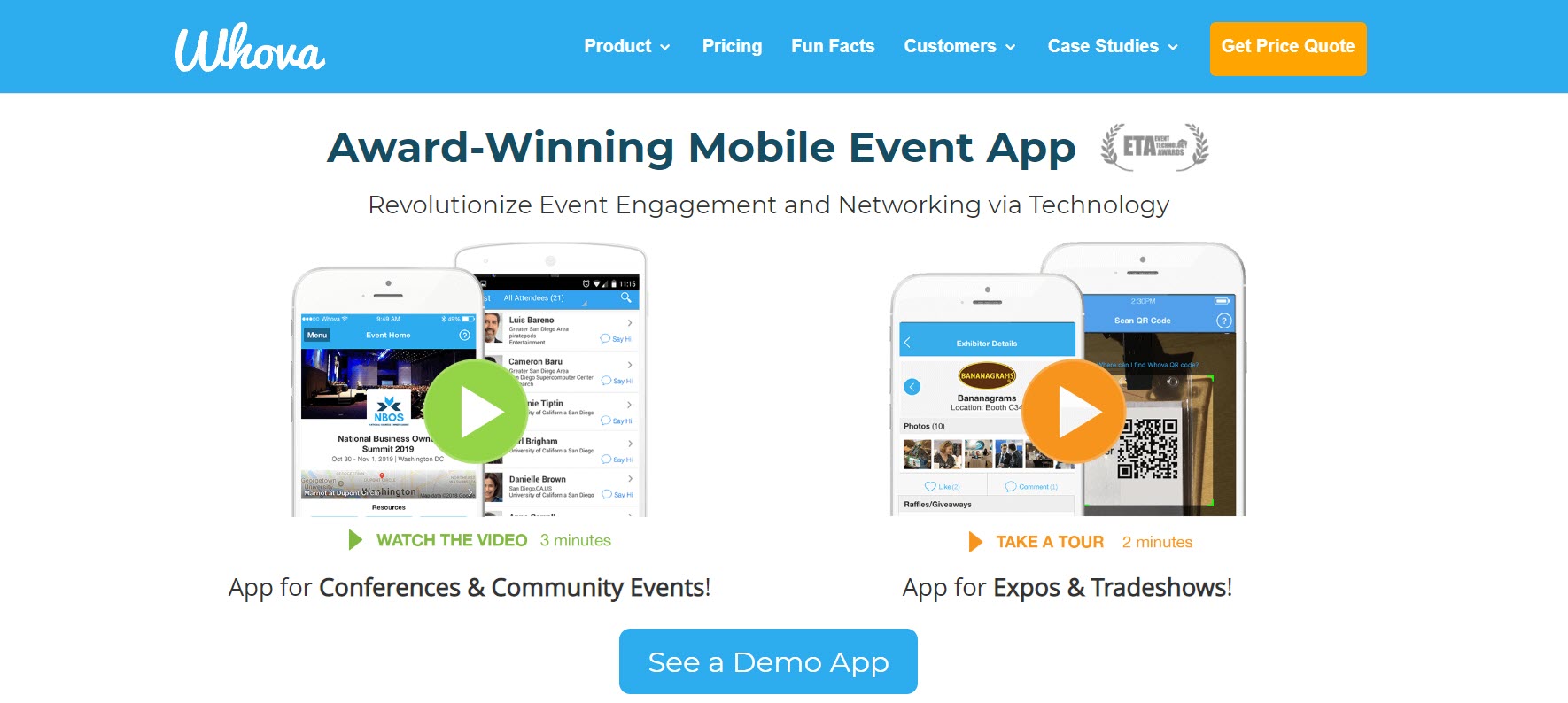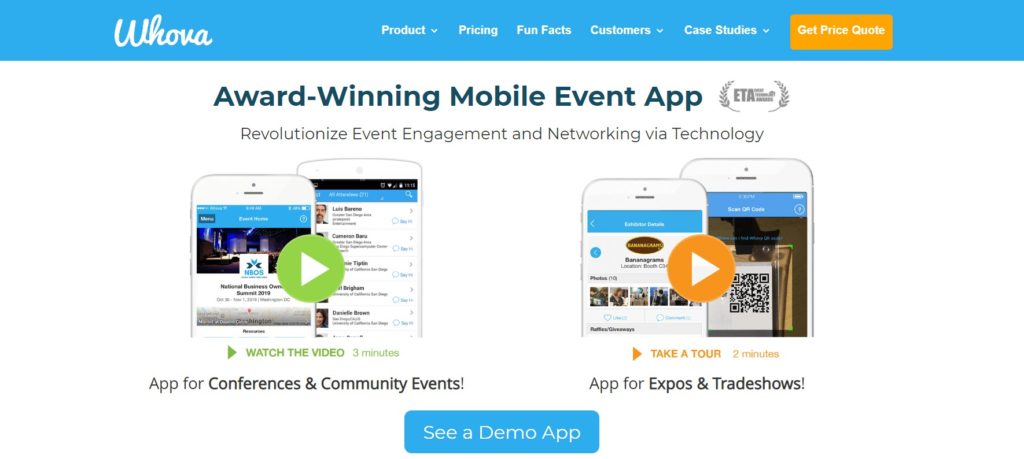 Like Brella and Bizzabo, Whova is another of the networking apps in this collection that is focused on improving networking at events. This app includes numerous networking features including attendee smart profiles, community boards, business card scanning and exchanging, one-to-one and group chats, social media links, and much more.
However, Whova's event management software goes much further than networking. With this app, attendees can create a personal agenda for the event, helping them to manage their sessions and timings, share documents, take notes, and access an interactive map.
So what else do you need to know about Whova?
Whova offers two apps – a Conferences and Community Events app, and an Expos and Tradeshows app.
Share event announcements via push notifications and email.
Highlight sponsors and exhibitors within the app.
Price: Similar to Brella, for attendees of events the app is free to download. However, for businesses looking to use the app for their own events, prices are available upon request.
Final Thoughts on Networking Apps for Entrepreneurs
Evidently, there are numerous networking apps available that will enable you to connect with others in your profession or niche. Try out the different apps available, and find which ones work best for you, then start connecting!
Which networking apps have caught your eye? Or have we missed out any networking apps that you think definitely need a mention? If so, please leave us a comment below…