Camtasia is a popular and powerful screen recorder and video editor from TechSmith. With this tool you can create videos in hours not days, using the robust editing features that will enable you to produce professional and attention-grabbing content. However, Camtasia isn't cheap, and the sheer amount of features can be overwhelming. So what are the top Camtasia alternatives?
In this article, we have identified ten top Camtasia alternatives that provide a similar high-quality screen recording and video editing experience. Read on to learn about the solutions currently available, and the features that they offer…
Filmora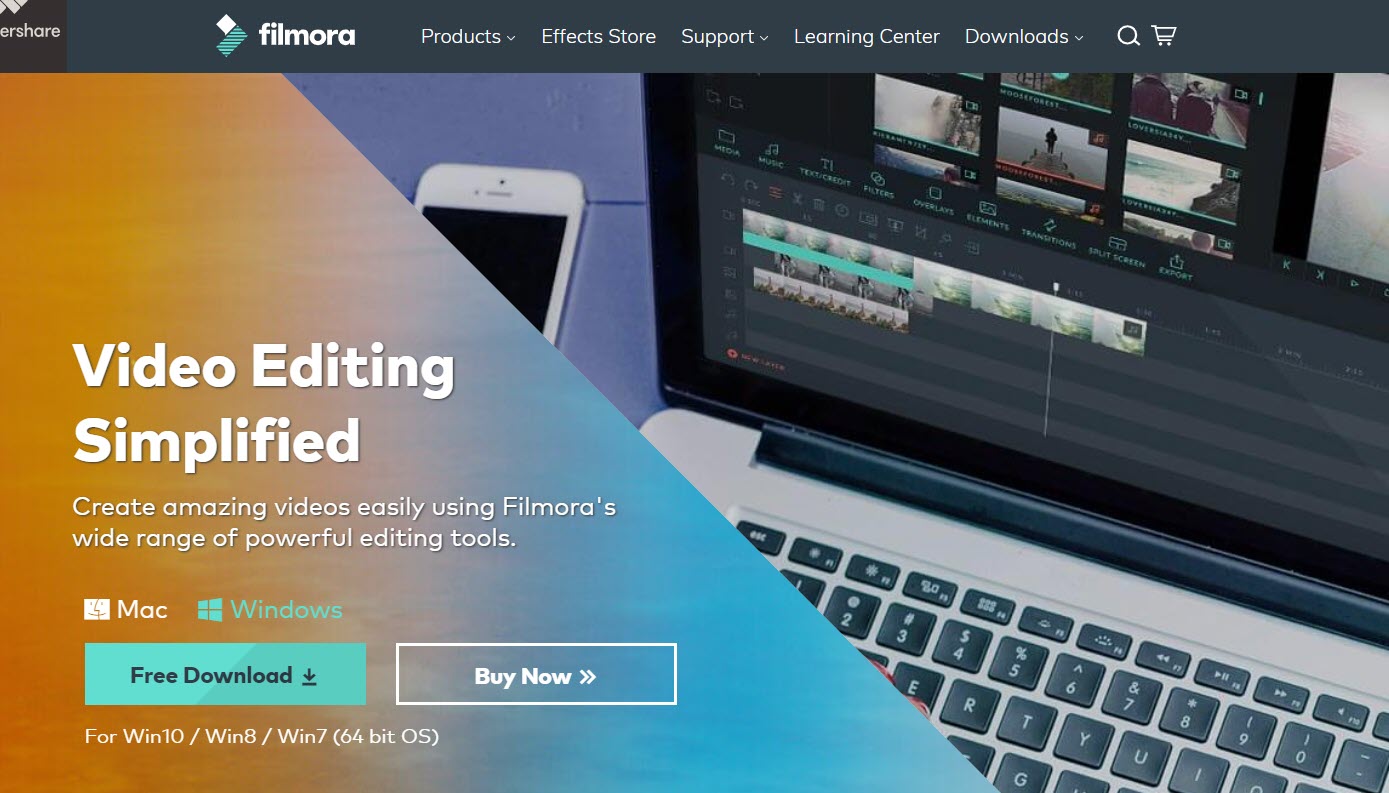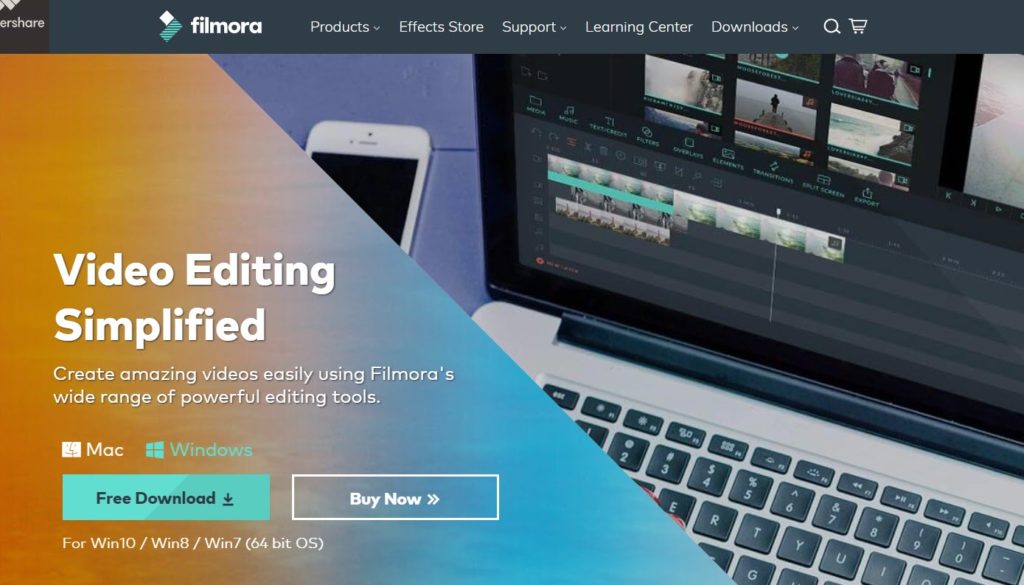 Filmora is a user-friendly video recording and editing tool. With an interactive interface, Filmora makes it quick and easy to record and edit videos, helping even the humble beginner become great at producing videos.
Let's have a look at its top features…
Filmora Scrn – Use this software to record from your computer screen and webcam. You can then edit clips, add annotations, import images and music, and much more.
Wondershare Filmora – Help your video stand out from the crowd with impressive editing features including filters, overlays, and animated elements, to name a few.
FilmoraGo – This free mobile editor will enable you to add numerous video effects, including themes, elements, and transitions.
Filmora is available for both Mac and Windows users, and is a good option for beginners upwards, as well as those with a creative flair.
Price: Filmora Scrn can be downloaded for free. However, if you would like no watermark and free technical support, it is worth purchasing the premium version of this software, which will cost you $19.99 a year, or $29.99 for lifetime access and updates.
Wondershare Filmora can also be downloaded for free, but again a premium version is available with no watermark and free support. Upgrading will cost you $39.99 billed annually, or a one-off lifetime payment of $59.99.
GoPlay (formerly Smart Pixel)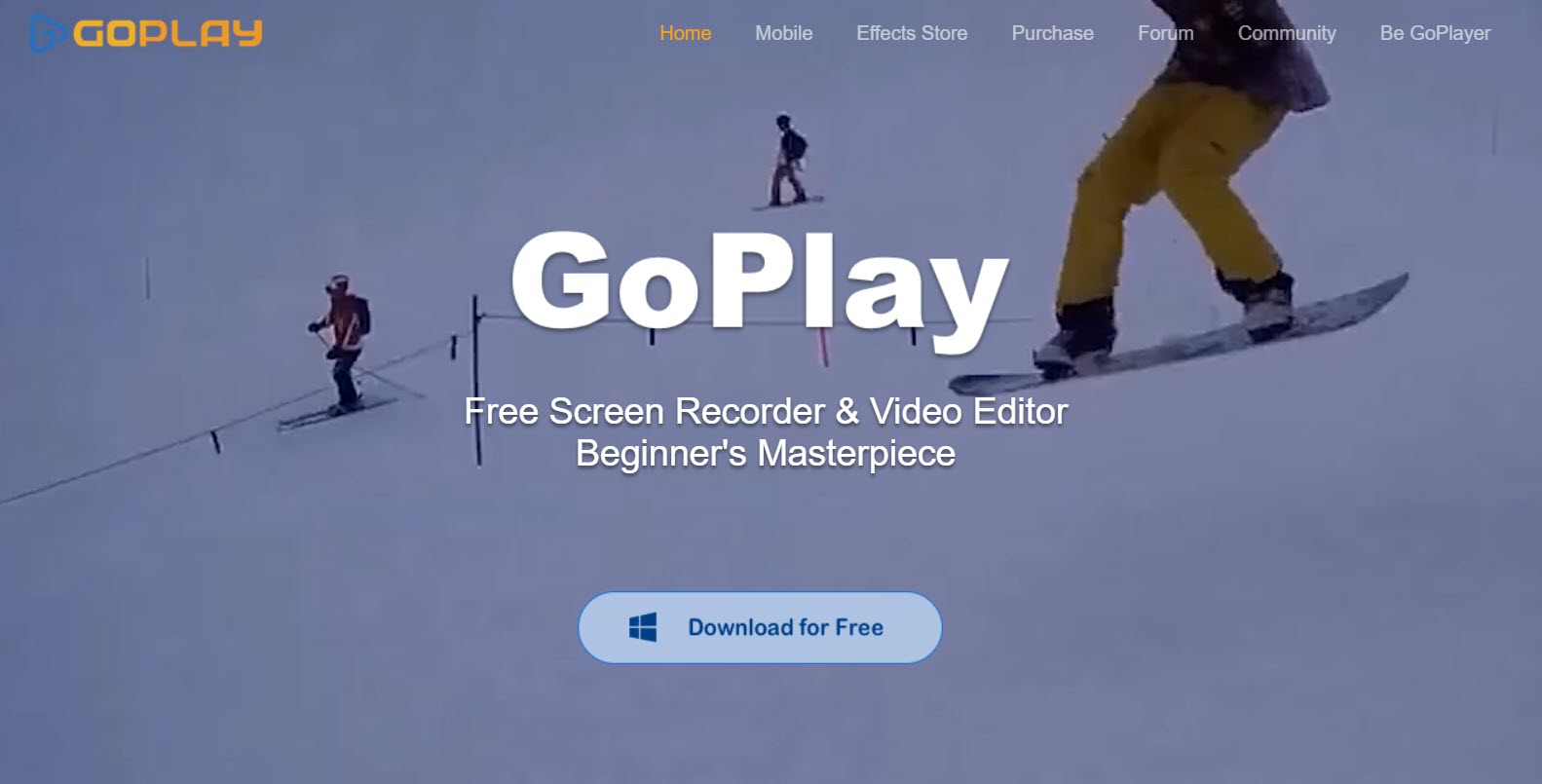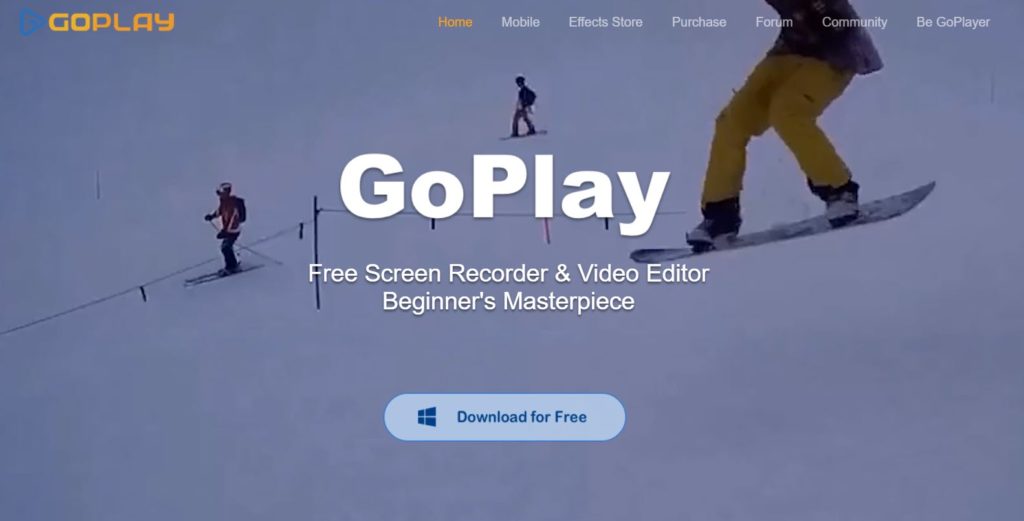 GoPlay (formerly known as Smart Pixel) is another impressive solution that has easily made this list of Camtasia alternatives. This product provides professional screen recording, and comprehensive video editing, complete with a range of powerful features. GoPlay also offers a range of basic and professional editing tools, ensuring whatever your skill set and project, you can edit your video with ease.
Here are a few of GoPlay's best features…
Custom Screen Recording – Record all, or capture some parts of your screen. You can also add in a webcam shot, creating a picture in a picture recording.
4K – 60FPS – Ideal for recording high paced gaming.
Social Sharing – Optimize your videos for social media and then export and share them in just one click.
GoPlay is available for both Mac and Windows, and you can also download the free GoPlay app for your mobile.
Price: Although you can download a free version of GoPlay, to enjoy features like no watermark and ads, and unlimited recording time, you will need to upgrade to GoPlay Pro. This will set you back $28.90 a year, or you can buy a lifetime membership for $59.90.
ScreenFlow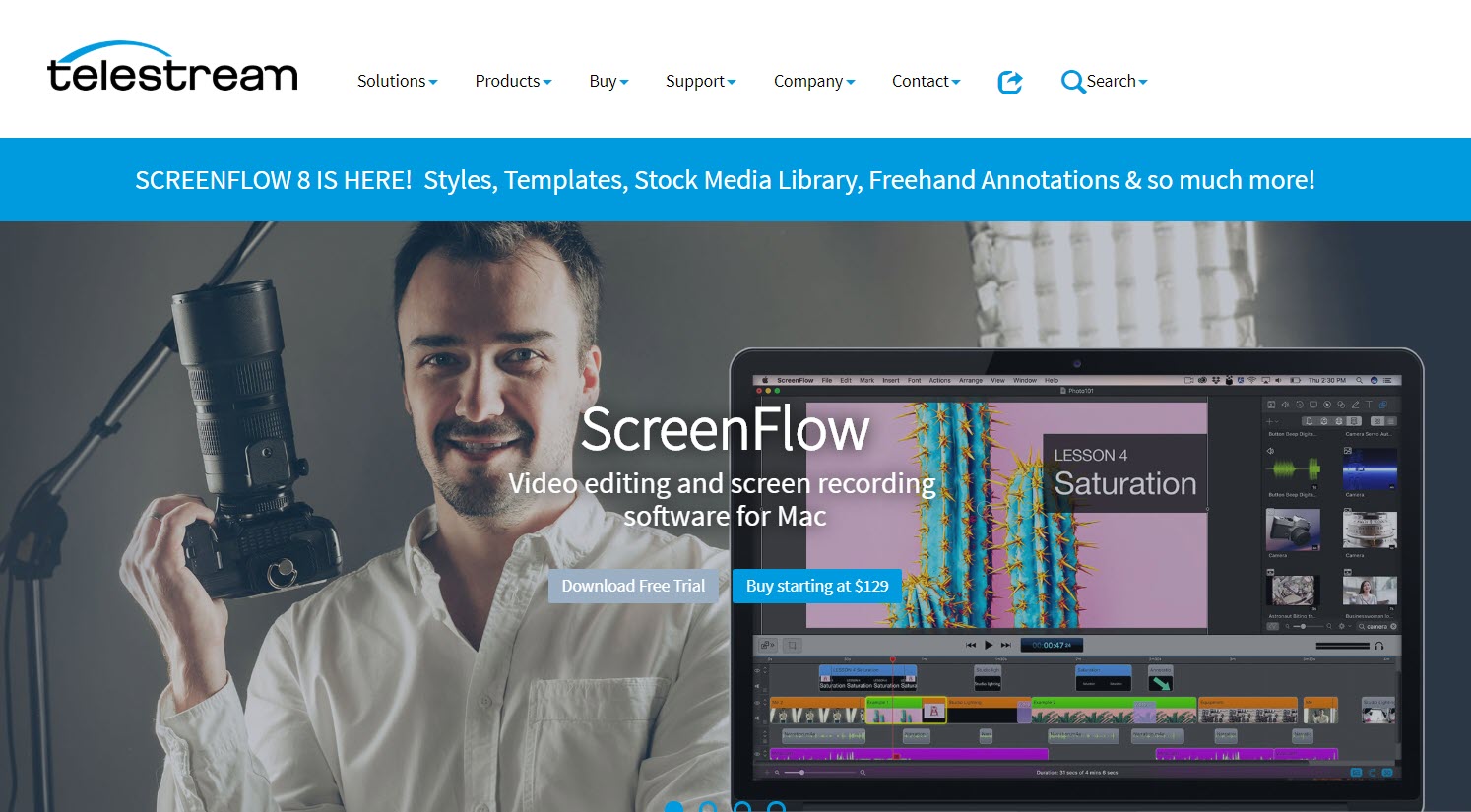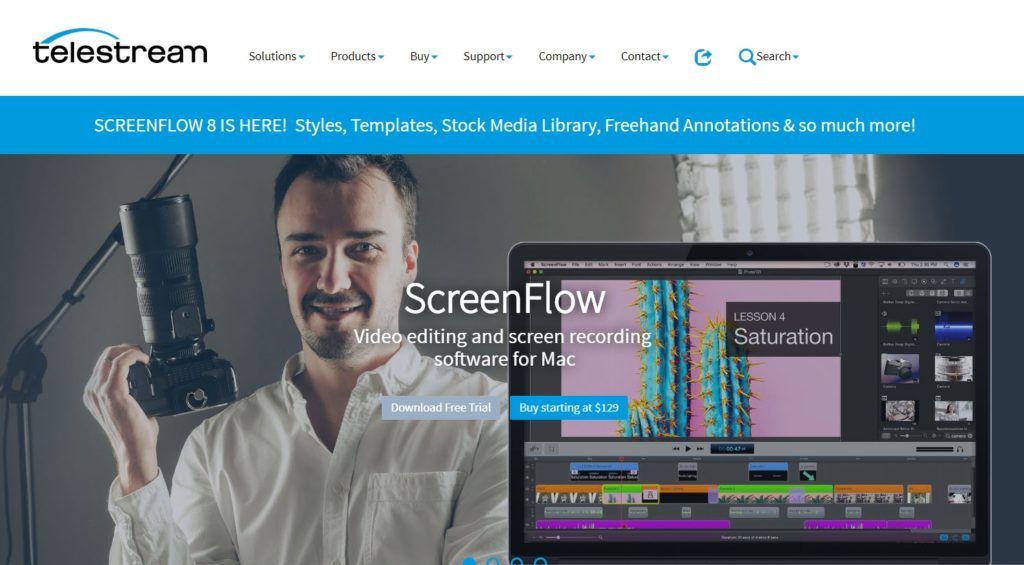 ScreenFlow is a screen recording, video editing, and sharing software from Telestream. This tool is a great choice for all, whether you want to create home movies or professional polished videos. ScreenFlow can be used for online training, marketing videos, or vlogging, to name a few options.
So let's check out its best features…
Stock Media Library – Access over 500,000 images, audio, and video clips.
Templates – If you need to make multiple videos with the same format, creating templates can save you hours of time. Add placeholders for your camera, audio, and any recurring media. Then, after each recording is finished, all assets are already positioned in the right places on the timeline.
Styles – Another time-saving feature, Styles allow you to set your favorite style presets, for example, particular filter and shadow options. This group of styles can then be saved and automatically re-used.
Evidently, ScreenFlow is a useful solution, but is only available for Mac.
Price: ScreenFlow can be purchased for $129 (billed annually). However, if you want access to the stock media library, you will need to upgrade to the ScreenFlow Super Pak plan, costing $175 a year.
Screencast-O-Matic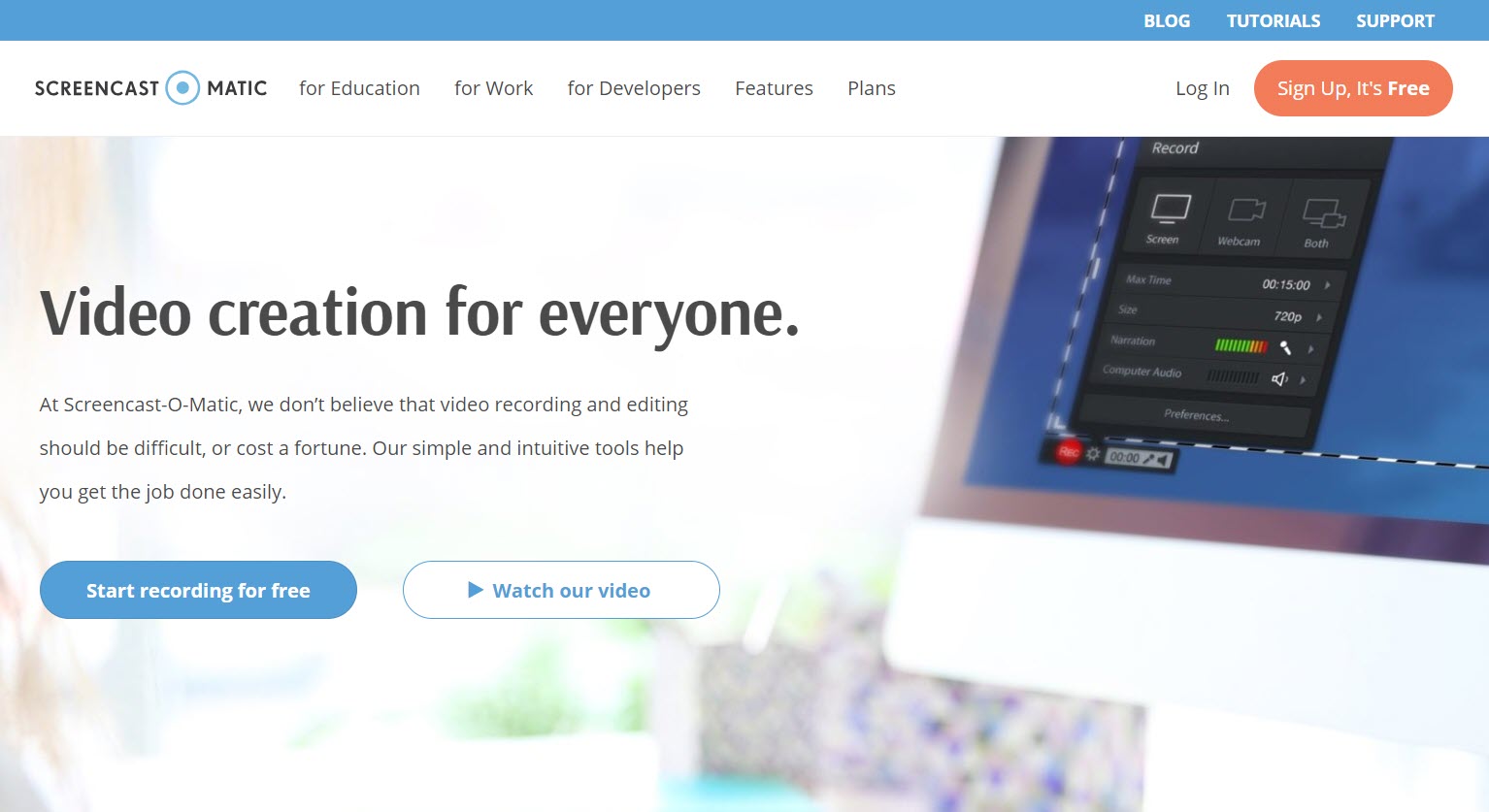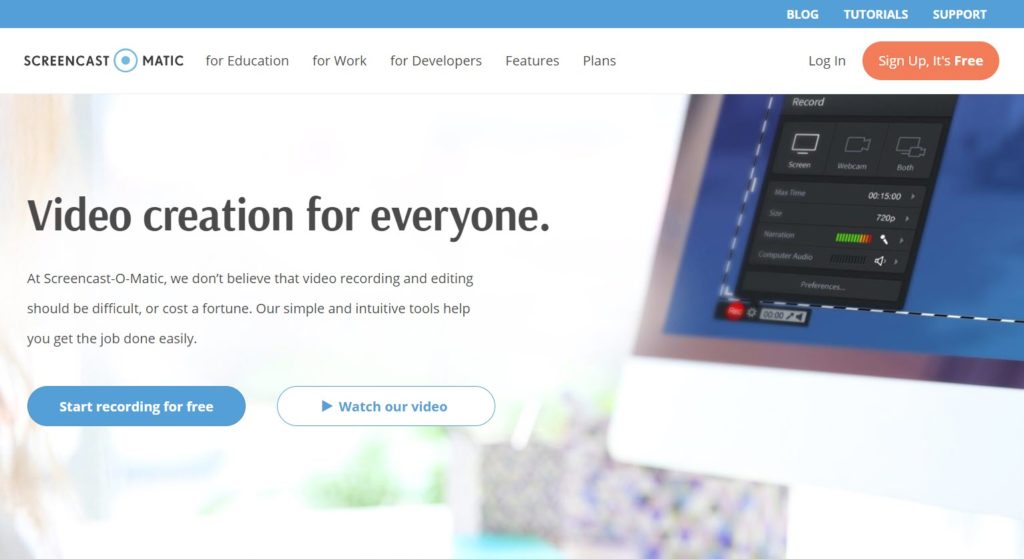 Using Screencast-O-Matic you can record your screen, and then edit and share your videos. Ideal for creating training videos, product demos, teaching material, and much more, Screen-O-Matic is a fantastic addition to this Camtasia alternatives collection.
So let's check out its top features…
Record Your Screen for Free – Perfect for video tutorials, demos, gaming, and more, Screen-O-Matic allows you to capture your computer screen, add a webcam, and record your voice.
Share and Protect Your Recordings – Screen-O-Matic's hosting service allows you to share, collaborate, and set privacy options for your videos.
Backup Your Videos – Backup to a dedicated space located off your computer.
Screen-O-Matic is available for Chromebook, Mac, and Windows and is trusted by schools, Fortune 100 companies, and individuals in over 190 countries.
Price: Screen-O-Matic provides a selection of solo and team premium plans, as well as a free version of their solution. Although screen recording is always free, if you want to access the Screen-O-Matic suit of editing tools, prices start at $1.50 a month for a solo plan, or $9.50 a month for a team package (billed annually).
Movavi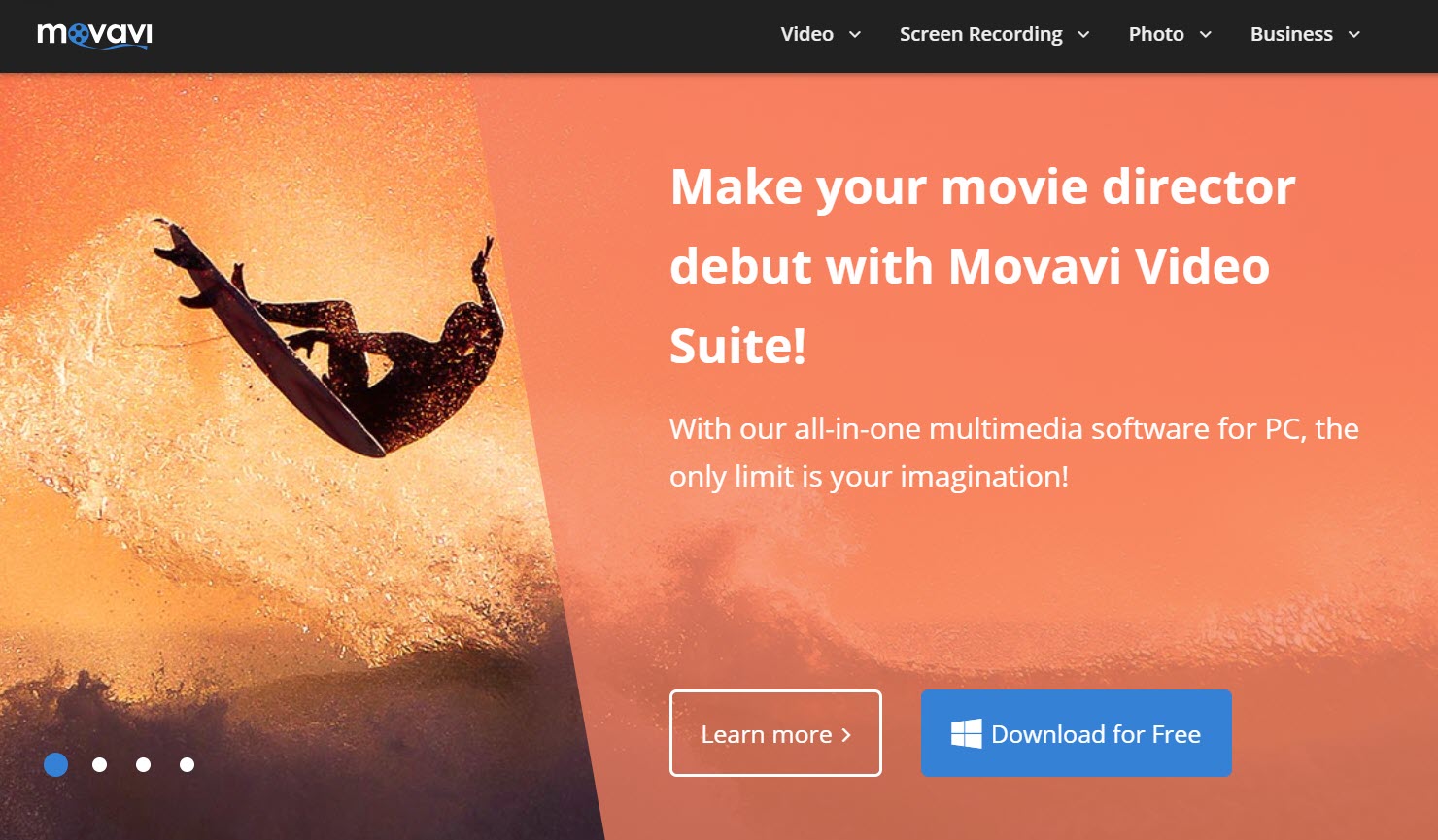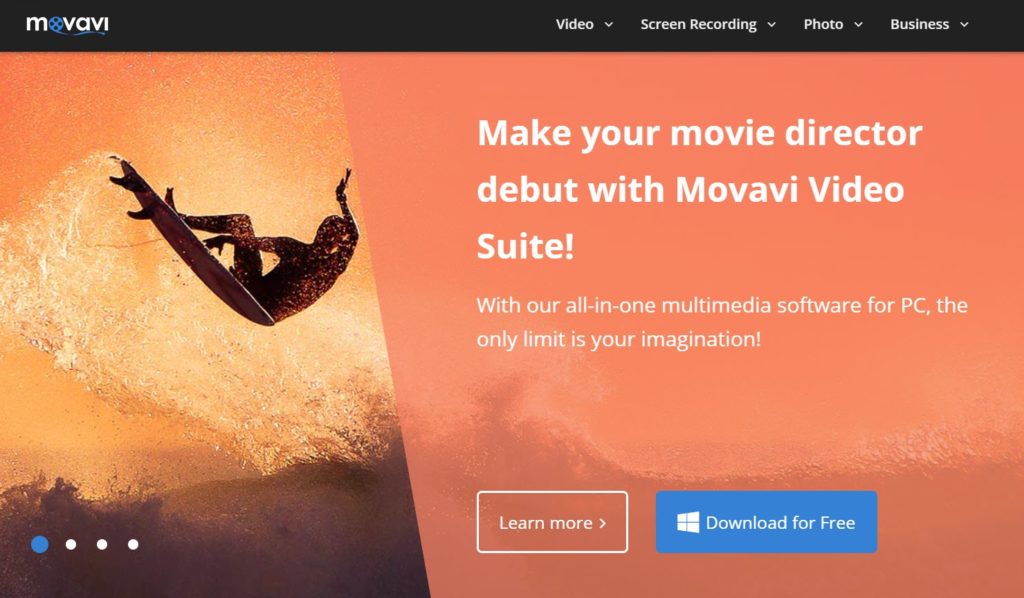 Movavi provides a range of tools, including a selection of screen capturing options, video and photo editing, and media conversion. Make films with music and special effects for fun, help your videos connect with your blog audience, improve engagement levels for your educational material, and much more.
Here are just some of the top features that Movavi provides…
Screen Capture Software – Record streaming audio and video, Skype chats, webinars, TV series, and movies, to name a few possibilities.
Audio Tools – Record voice overs, tweak audio frequency, remove noise, add sound effects, sync the pace of your video to the beats of your music, and much more.
Movavi Effects Store – Purchase Hollywood worthy effects from the Movavi Effects Store, including themed stickers, backgrounds, audio effects, titles, and transitions.
Originally predominantly Windows based, Movavi now caters more for both Mac and Windows users. However, you will still find that some of the tools are only available for Windows.
Price: The Movavi software can be purchased in a variety of bundles and packages. The Video Editor software starts at $39.95 for personal use, and $79.95 for business, for a year's license.
FlashBack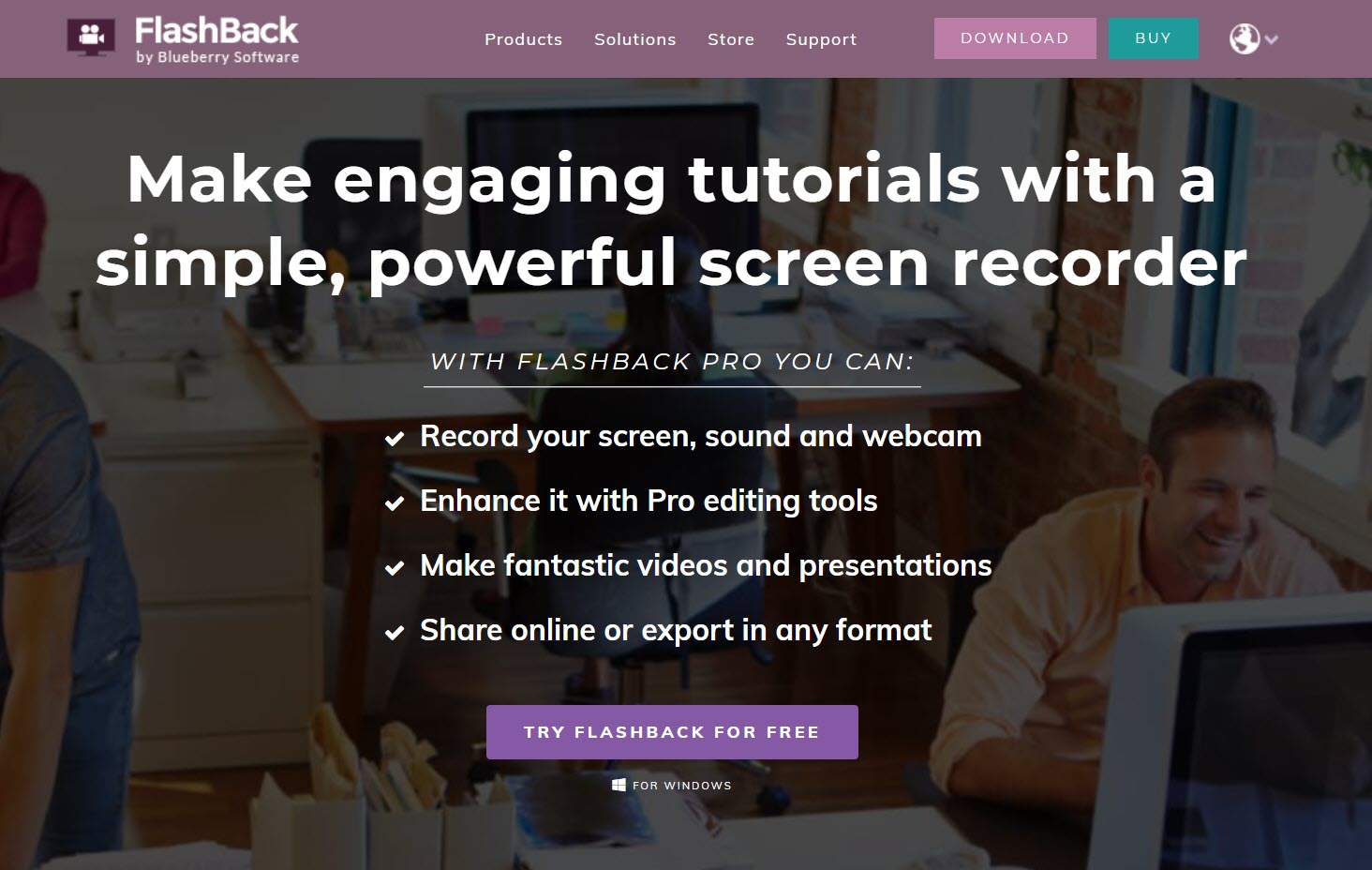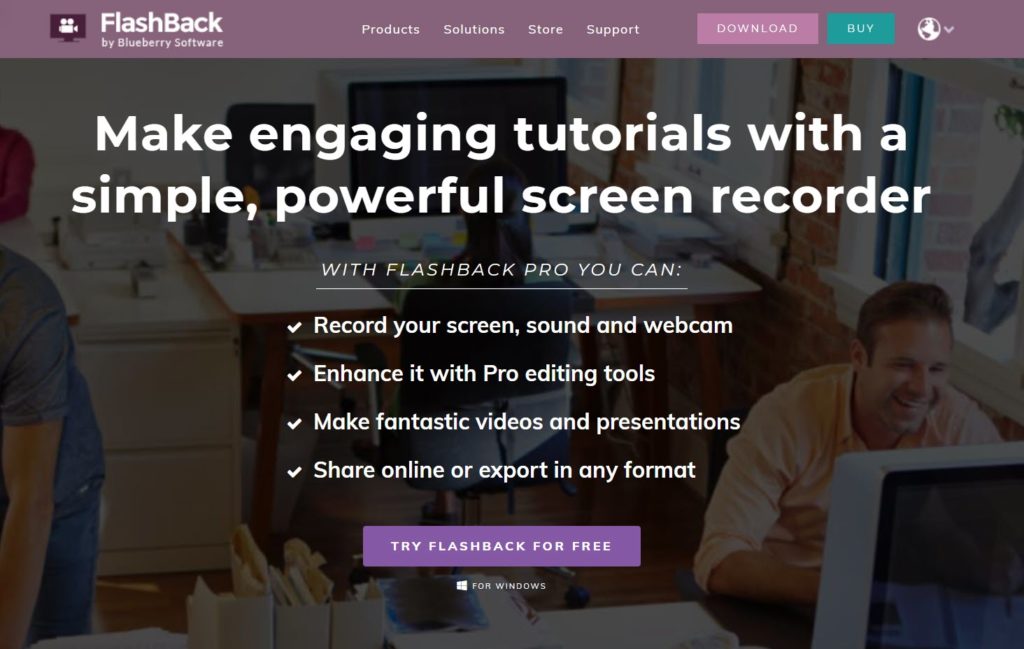 FlashBack is yet another great addition to this collection of Camtasia alternatives. Created by Blueberry Software, Flashback offers a free screen recorder (Flashback Express) and a premium screen recorder and editor (Flashback Pro). Flashback also provides an advanced screen recorder for gaming (FBX), which ensures smooth HD recording and high-performance results.
Let's see what else Flashback has to offer…
No Limits to the Length of Recording – With Flashback you can capture anywhere on your screen, add webcam footage to your screen, and add commentary as you record, for as long as appropriate.
YouTube Support – Easily export your movie in any major video format or upload straight to YouTube.
Powerful Enhancements – Add engaging effects to your videos including annotations, interactive buttons, sound, and images.
Although Flashback doesn't contain extensive editing features, it is still a great option if you are looking for a tool that combines simplicity and ease of use. It is also only available for Windows.
Price: Although the screen recorder is free, to access the video editing tools you will need to purchase Flashback Pro for the price of $47 (for a lifetime membership).
ActivePresenter 7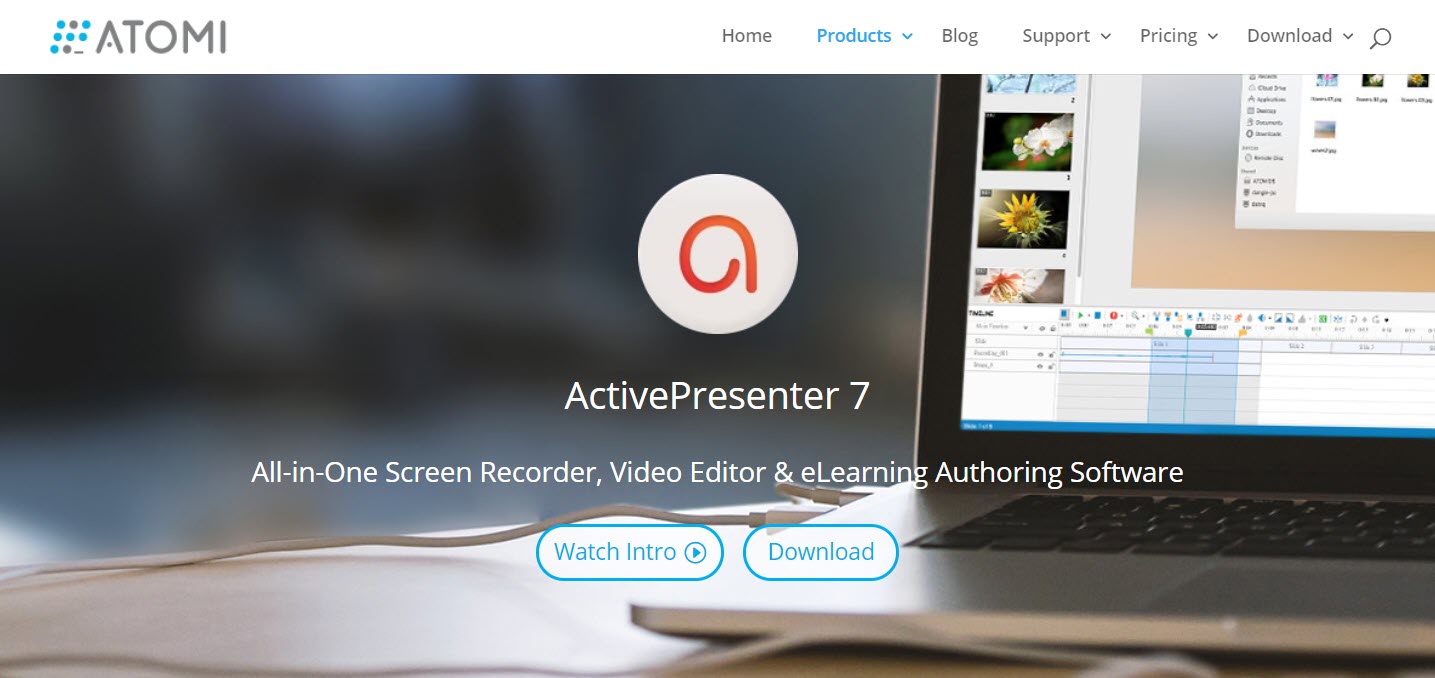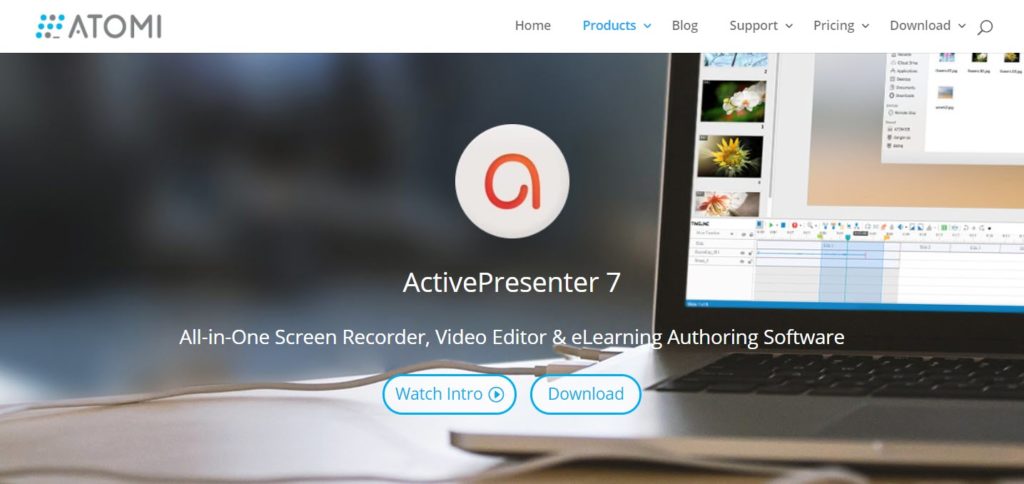 ActivePresenter 7 from Atomi is a powerful all-in-one screen recorder and video editor, with a focus on eLearning. This solution provides all the tools you need to record your screen, annotate and edit your videos, and add interactive eLearning content.
So let's check out ActivePresenter 7's top features…
Design eLearning Content – Create training courses, add online quizzes, and embed games into your videos to ensure your eLearning content engages with your audience.
Themes and Templates – Select from a variety of themes and templates to help you quickly create new projects.
Text to Speech – Convert text to speech using Text to Speech engines. You can also add voices to help personalize the speech in your videos and tutorials.
ActivePresenter is the perfect tool for those looking to create eLearning tutorials, but also for anyone looking to record their screen and produce exciting videos.
Price: ActivePresenter 7 is available from $199, which includes any future updates to your purchased version. There is also a free version of ActivePresenter that is a good option for those wanting to use the tool for non-commercial use.
Adobe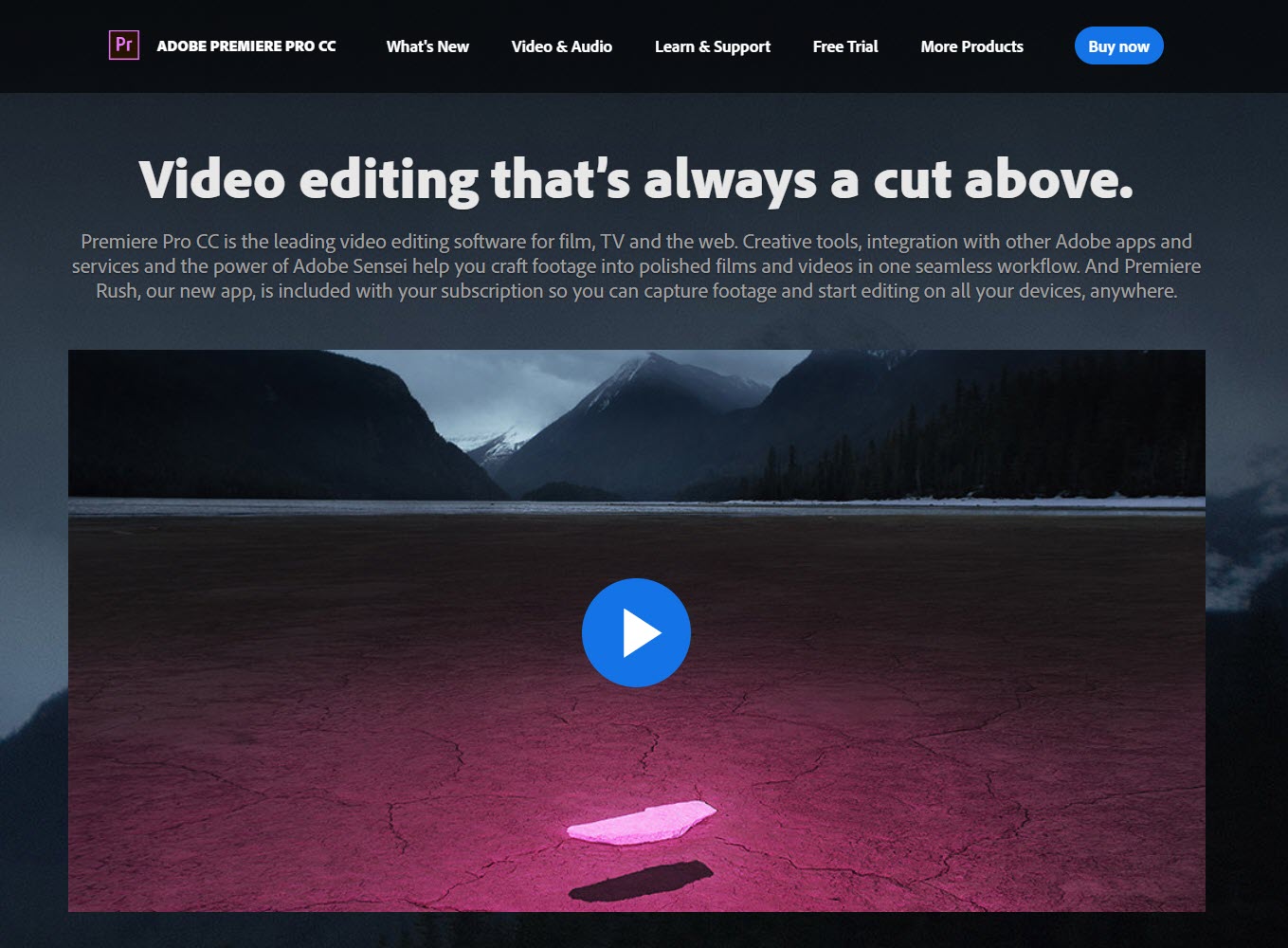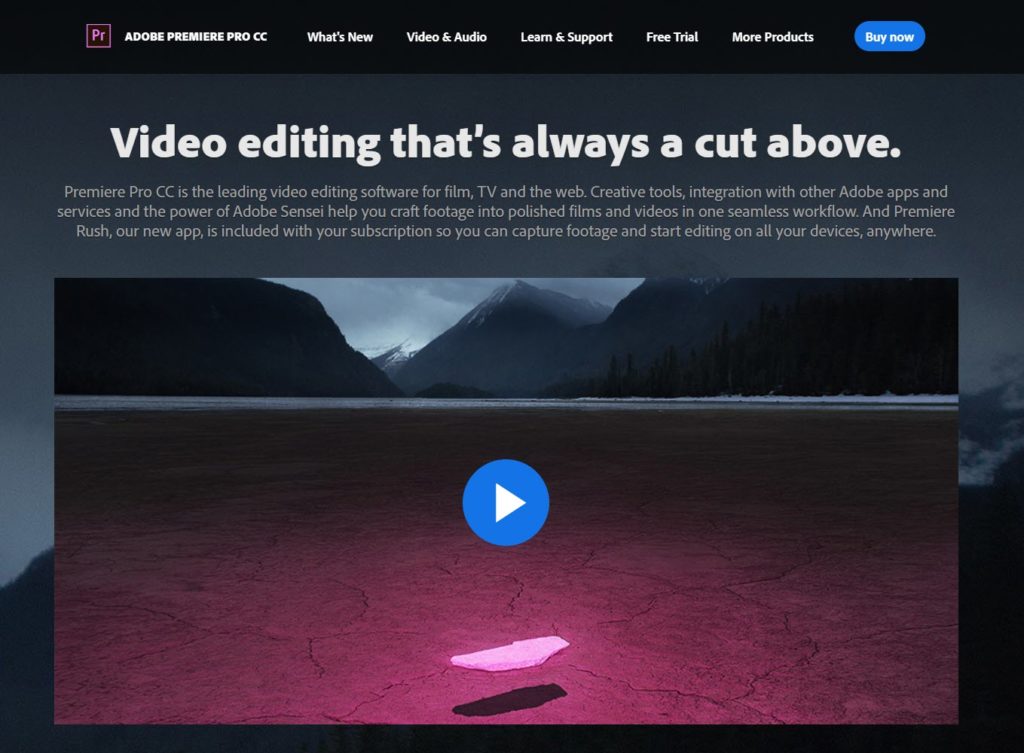 Adobe is made up of a collection of 20+ desktop and mobile apps. Amongst these is the soon to be released Adobe Captivate, enabling users to capture screen activity, and the popular Adobe Premiere Pro CC, a leading video software. All the Adobe apps and services integrate, providing a complete creative package for video creation, whatever your project.
Let's have a closer look some of these extensive features from Adobe…
Adobe Captivate (2019 Release) – Screen grabber and interactive video maker, create responsive content for the web and eLearning. Capture screens on Windows, macOS and iOS devices, then edit for use within Adobe Captivate or another video editing application like Adobe Premiere Pro CC.
Adobe Premiere Pro CC – Create films and videos in one seamless workflow, without ever having to leave your timeline. Alter colors, audio, and graphics, to name a few elements, and take advantage of Adobe integration by accessing effects from the After Effects app, and images from Adobe Stock.
Adobe Premiere Rush CC – The all-new Adobe Premiere Rush CC app enables you to capture footage on your phone, which can then be edited within Adobe Premiere Pro CC and shared across your devices and on social media.
Adobe is an extremely impressive solution, with multiple facets and features, easily making it one of the best Camtasia alternatives. It also works across both Mac and Windows.
Price: Adobe isn't cheap, and to purchase the Adobe Creative Cloud, giving you access to all the apps and 100 GB of cloud storage, will cost you $52.99 a month.
iSpring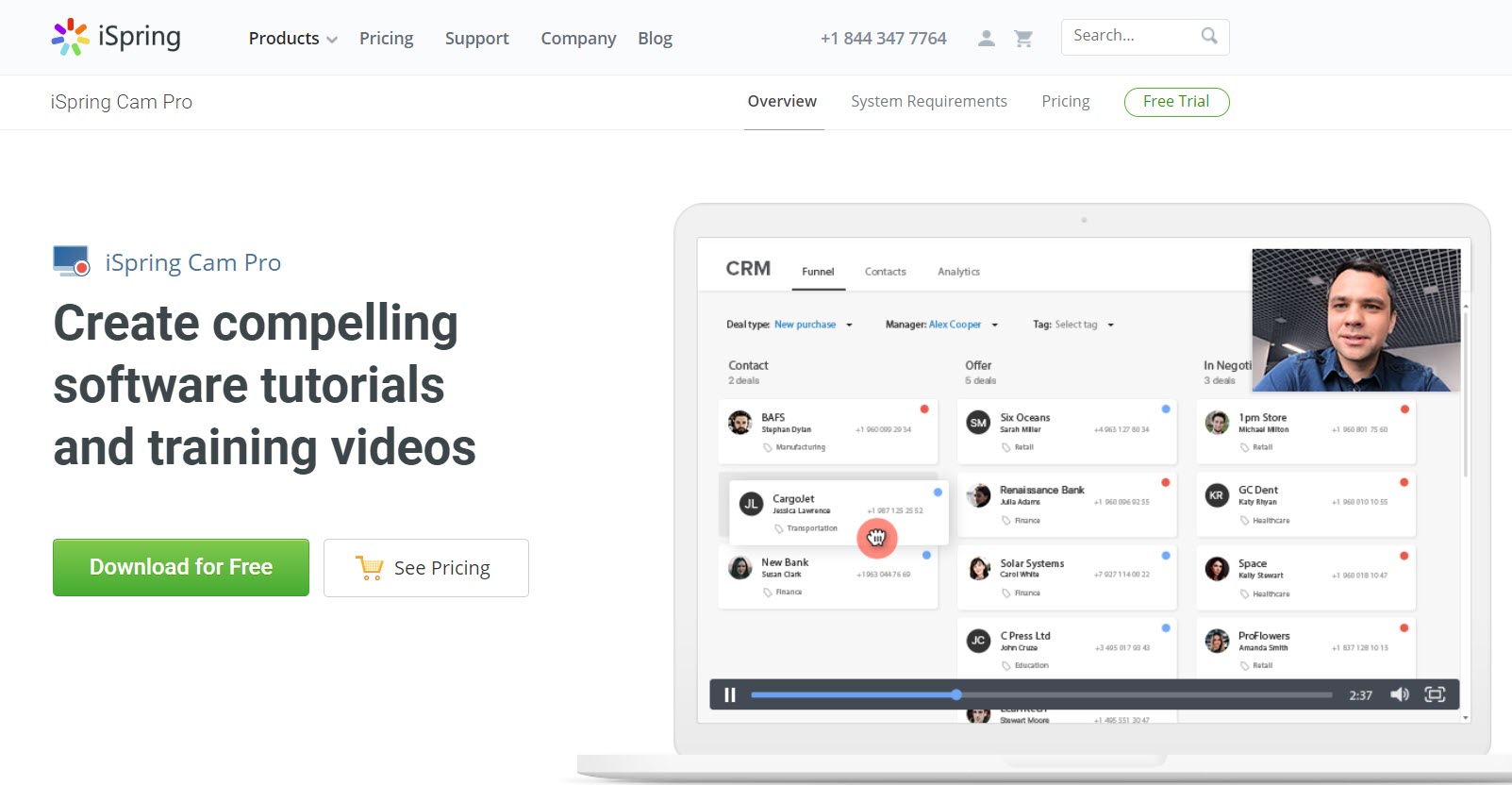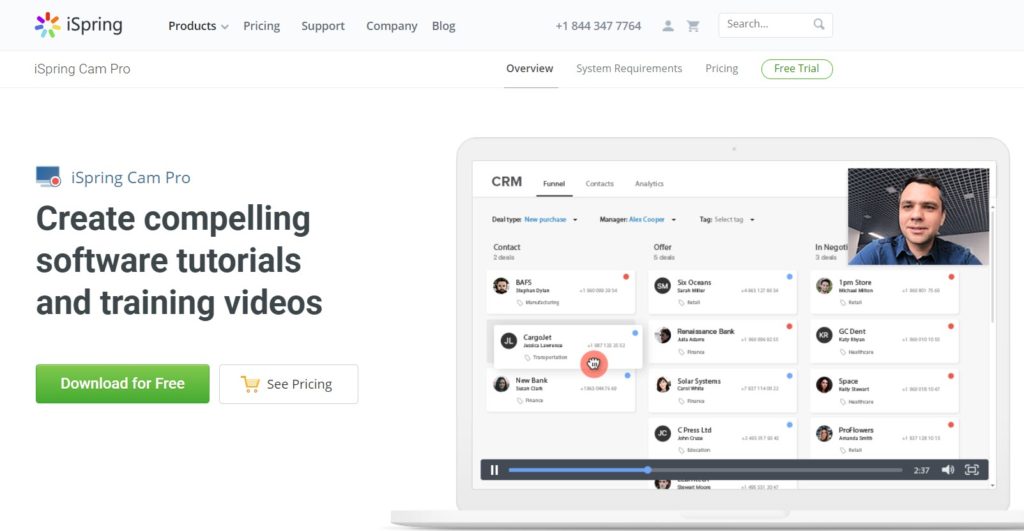 iSpring is a functional solution, great for beginners and projects that won't need advanced editing. You can use iSpring to easily record your screen and edit your videos to create professional eLearning material as well as fun content for social media and the web.
Here are iSpring's top features…
Select a Recording Area – Record your entire screen, a selected area of your screen, or a single window.
Interactive Canvas – Drag and drop videos, annotations, images, shapes, and more, right onto the canvas to quickly and easily create videos to your exact specifications.
Upload to YouTube – Publish your freshly made videos to your YouTube channel in just one click.
iSpring provides both free and premium options but is only available for Windows.
Price: If you want to upgrade to iSpring Cam Pro it will cost you $197 for a one-off lifetime license. This includes a complimentary support plan and a 30-day money back guarantee.
MadCap Mimic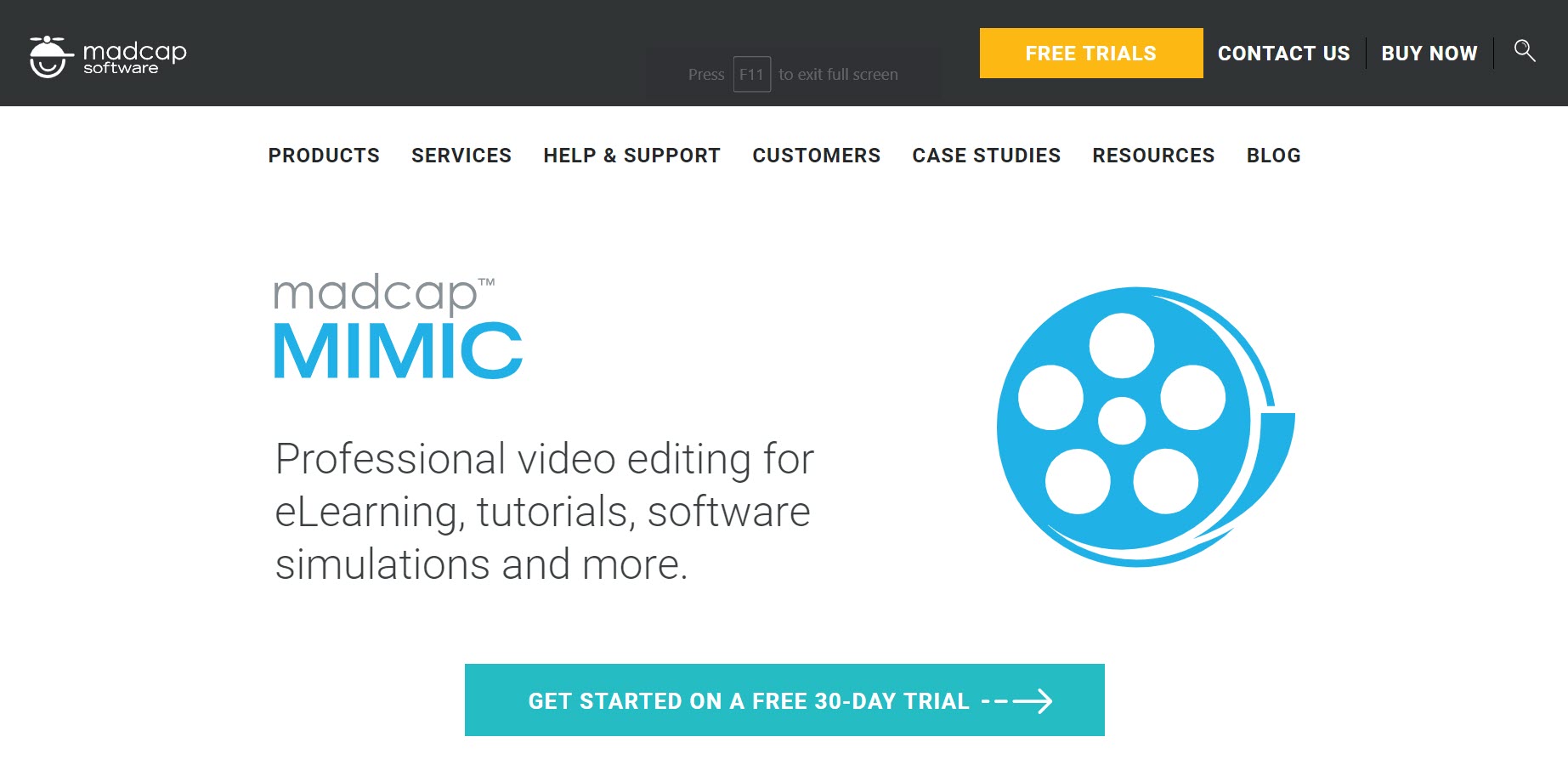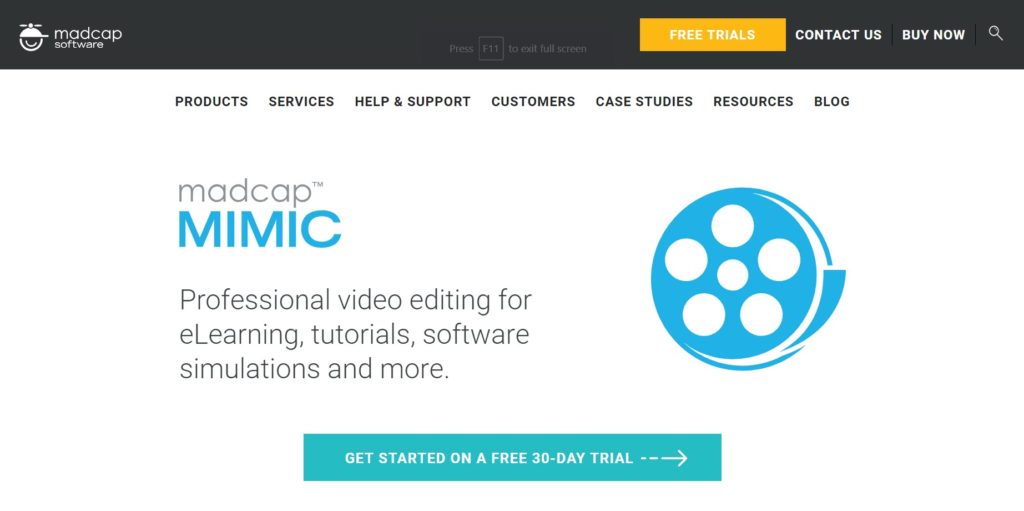 The last in this list of Camtasia alternatives, MadCap Mimic is an effective screen recording and video editing software. Perfect for creating high quality fully interactive movies, eLearning material, tutorials, presentations, and much more, MadCap Mimic offers something for everyone.
So let's have a look at some of the features on offer…
Multiple Recording Modes – Select from automatic, manual, and full-motion recording.
Video Enhancements – Select from dozens of enhancements to help polish your content, including blur, opacity, and greyscale effects.
Distribution – Video support for iOS, YouTube, and more.
Whether your niche is technical support, sales and marketing, or blogging, to name a few options, this user-friendly software provides the recording and editing capabilities that will help you produce stylish, attention-grabbing videos.
Price: MadCap Mimic will cost you a one-off payment of $428. This includes 12 months of support and maintenance, and you can also take advantage of a 30-day free trial.
Final Thoughts on these Ten Top Camtasia Alternatives
As you can see, there are numerous Camtasia alternatives available. All the solutions we have mentioned in this article are high-quality options and will enable you to create videos that will wow viewers. So, now the decision is up to you, which of these Camtasia alternatives will you choose for your next project?
Are there any solutions that you feel should have made this list of Camtasia alternatives? If so, please share them in the comments below…