Custom domains or vanity URLs can be used with HelpJet to replace the yourdomain.helpjetapp.com URL.
This can be used to map a subdomain (eg. support.example.com) to your HelpJet site. Currently HelpJet does not support the assignment of root domains (example.com) from the control panel, please contact support if you wish to use a root domain for guided setup.
To use a custom domain, select the Custom Domain menu from your Help Center Management Screen.
Note: You must already have registered and own the domain, HelpJet does not register or allow you to register or manage the domain ownership.
Enter the URL of the domain you wish to use with your Help Center.
Your custom domain will be assigned automatically, but it may take upto 24 hours for it to work correctly. During this time, parts of your knowledge base may not work correctly as the internal linking updates.
How to update your DNS records
Domain name registrars vary in the way DNS records can be managed, for assistance with updating DNS settings, please contact your domain registrar.
Using a sub domain
This example assumes you are using a subdomain, such as support.example.com for your HelpJet custom domain.
Create a new CNAME record for the subdomain that points to helpjetapp.com. The DNS entry should match the subdomain slug, so if you want to use support.example.com, the DNS entry should be slug. If your wanting help.example.com, it should be help.
The following screenshots are from different domain registrars, please contact your domain registrar for further assistance with DNS settings.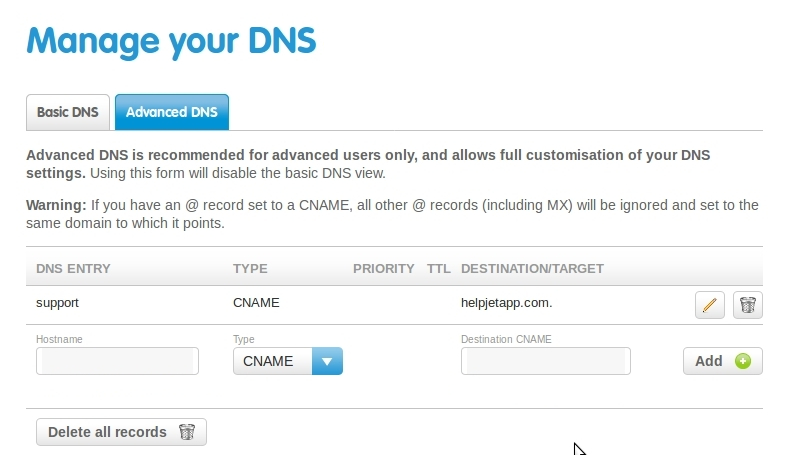 Some registrars may display this information differently.